My Moody New Orleans Bedroom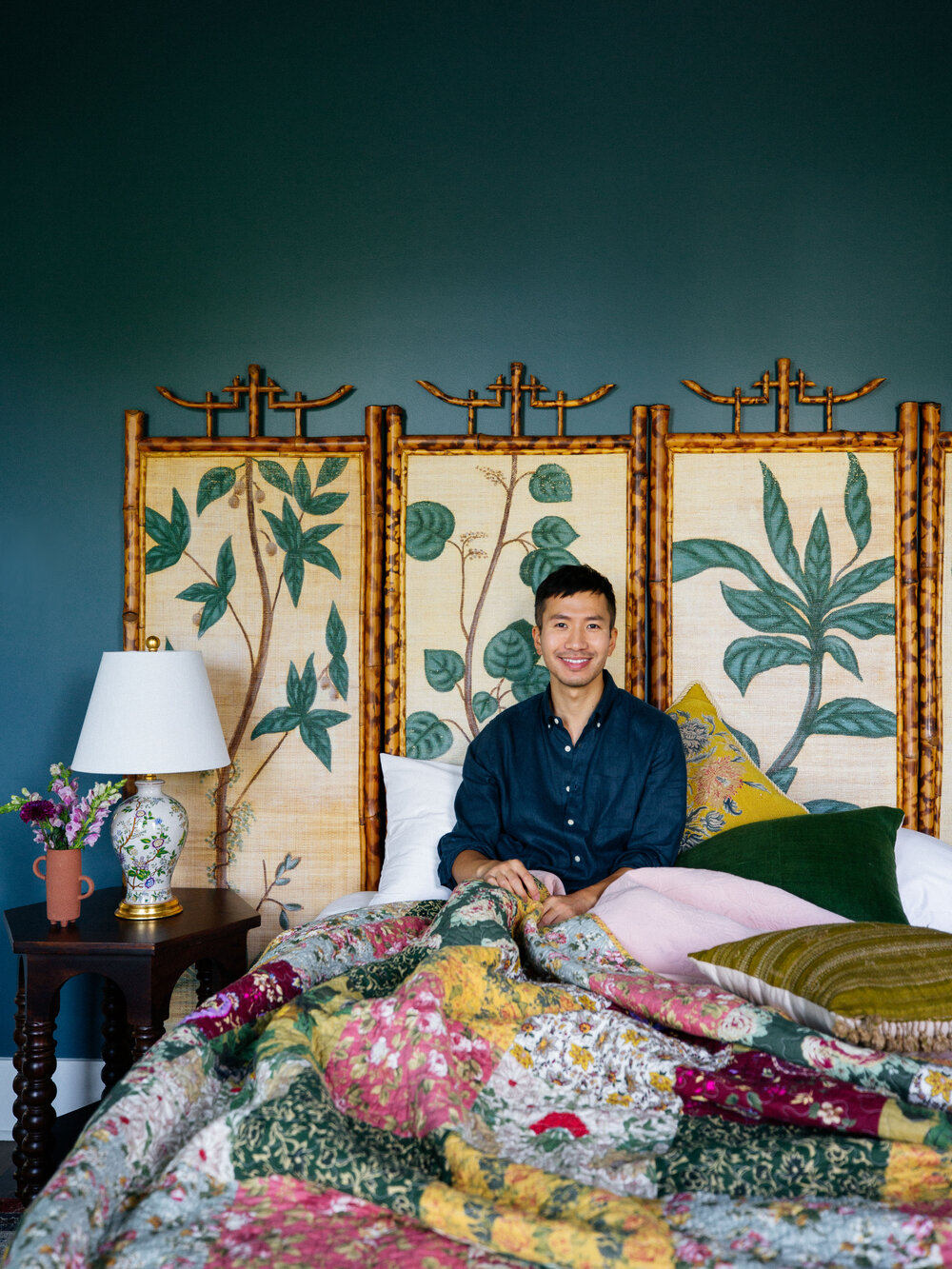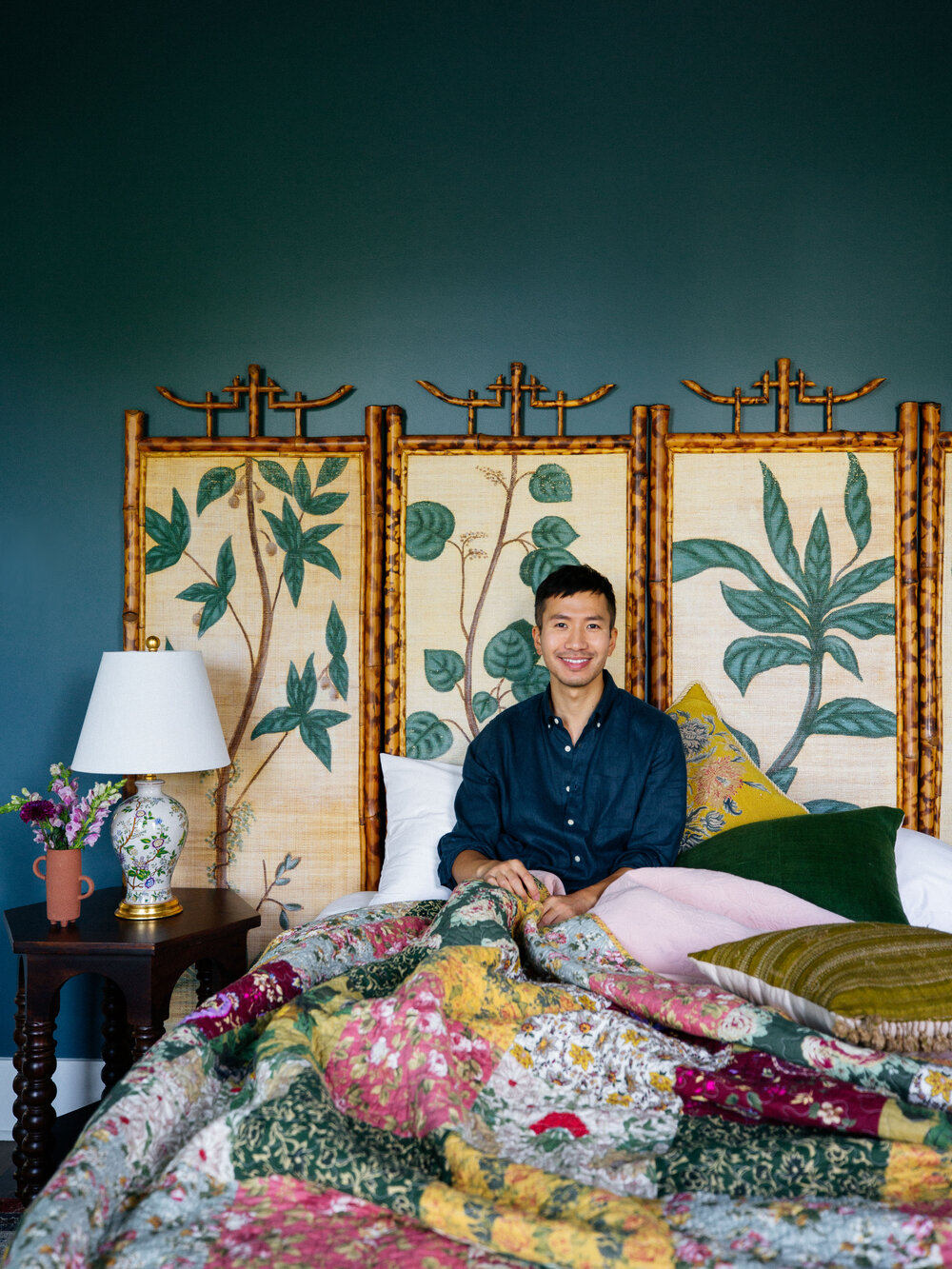 Sponsored by The Home Depot
---
With my living room already starting to feel like home, the next space to tackle in our New Orleans abode is the bedroom. Since winter is on its way, I wanted the bedroom to feel especially warm and welcoming, so I'm grateful to partner with The Home Depot to create a dreamy vibe in my new space.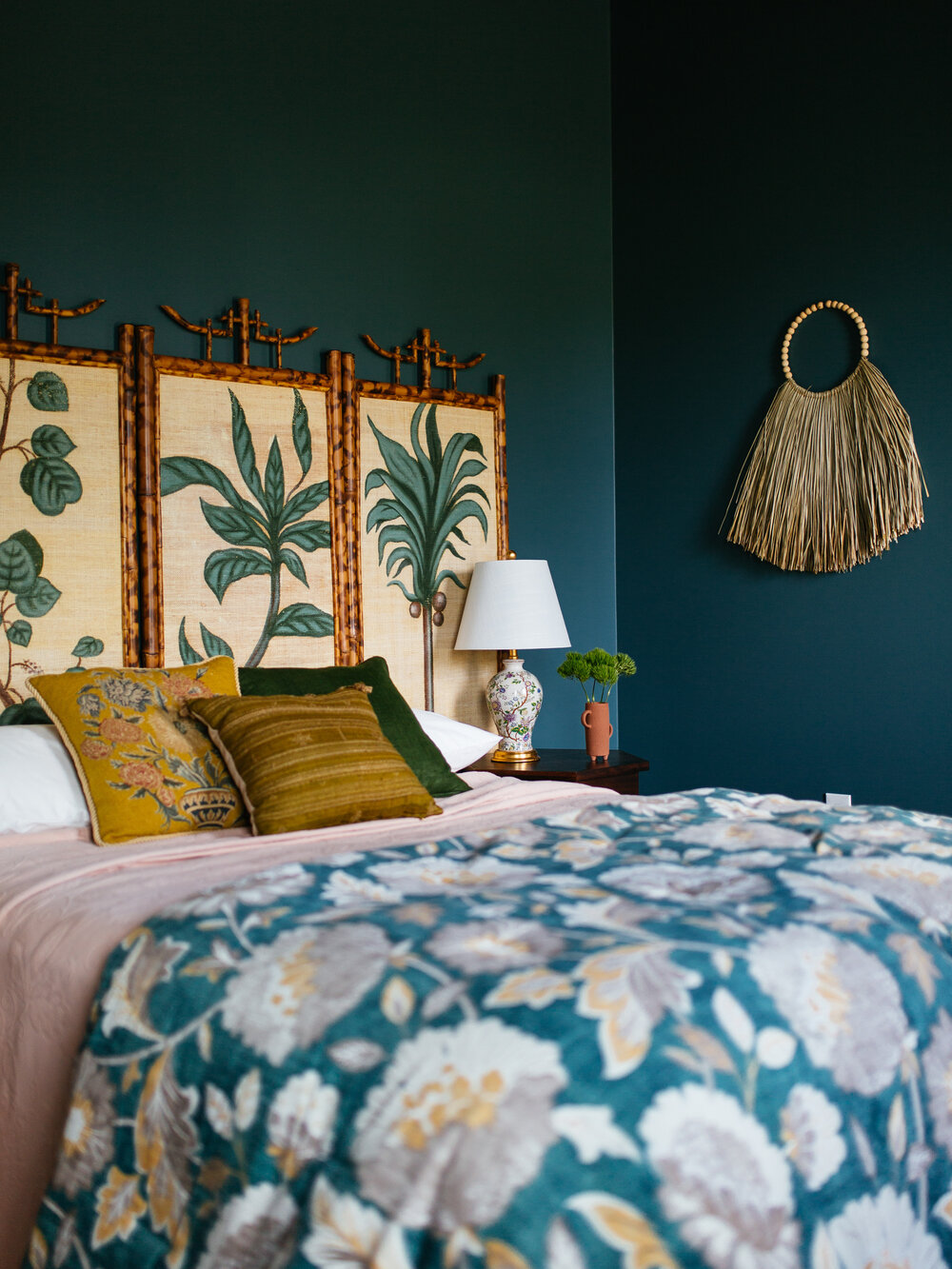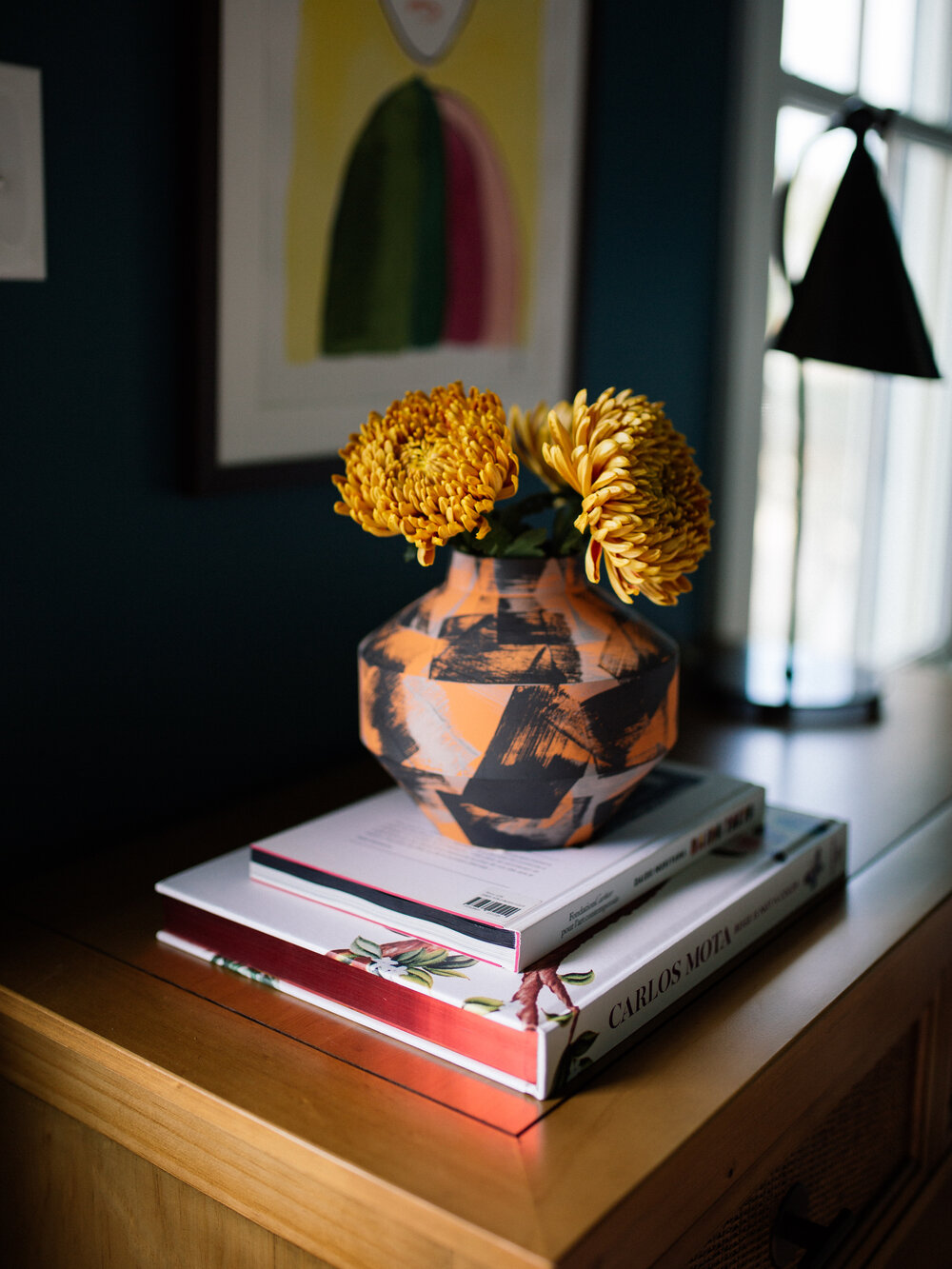 I've been on a floral kick lately. Before I even got started I knew I wanted to give the bedroom a moody, floral, romantic feel with vintage — and vintage-inspired — accents like Chinoiserie, Asian art, and other handcrafted pieces. I know from past makeovers that HomeDepot.com/decor offers exclusive decor collections that are the perfect compliment to my flea market finds.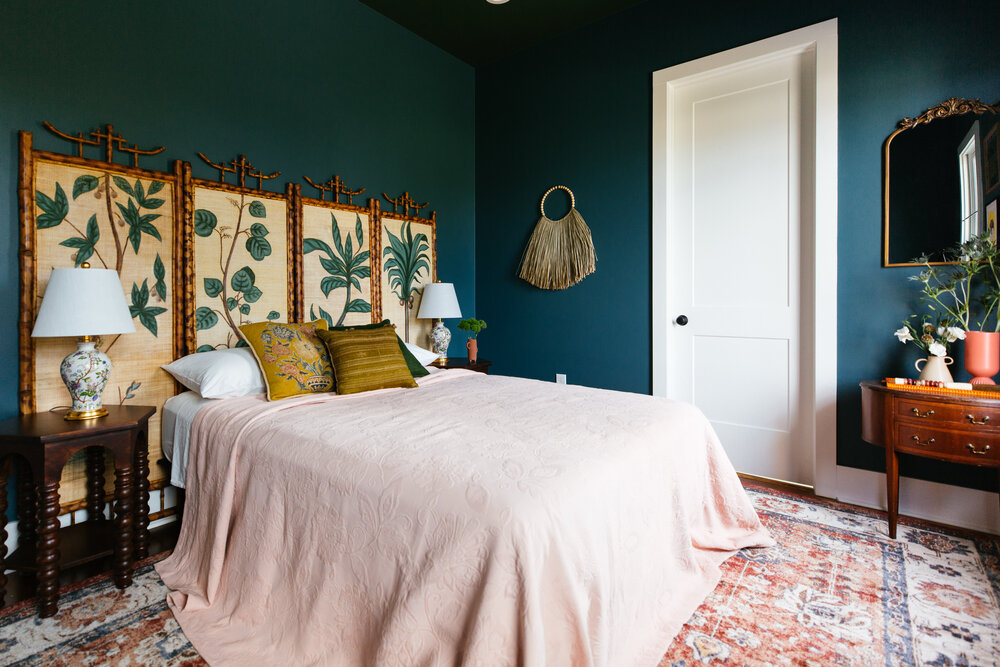 As always, I started off my design concept with a color story. You know I love greens and blues, so I stuck with my go-to palette to keep the room feeling familiar and comforting. And since I've been doing so many vibrant colors, I wanted to create a darker space. I picked out this navy blue/teal (BEHR Juniper Berries). This was my first time painting the ceiling a different color than the wall. Initially I wanted everything blue but decided to do green (BEHR Royal Orchard) up top for a fun accent. The Indonesian necklace hanging on the wall is from Whitney J Decor. The throw pillows are from Xasmin Interiors.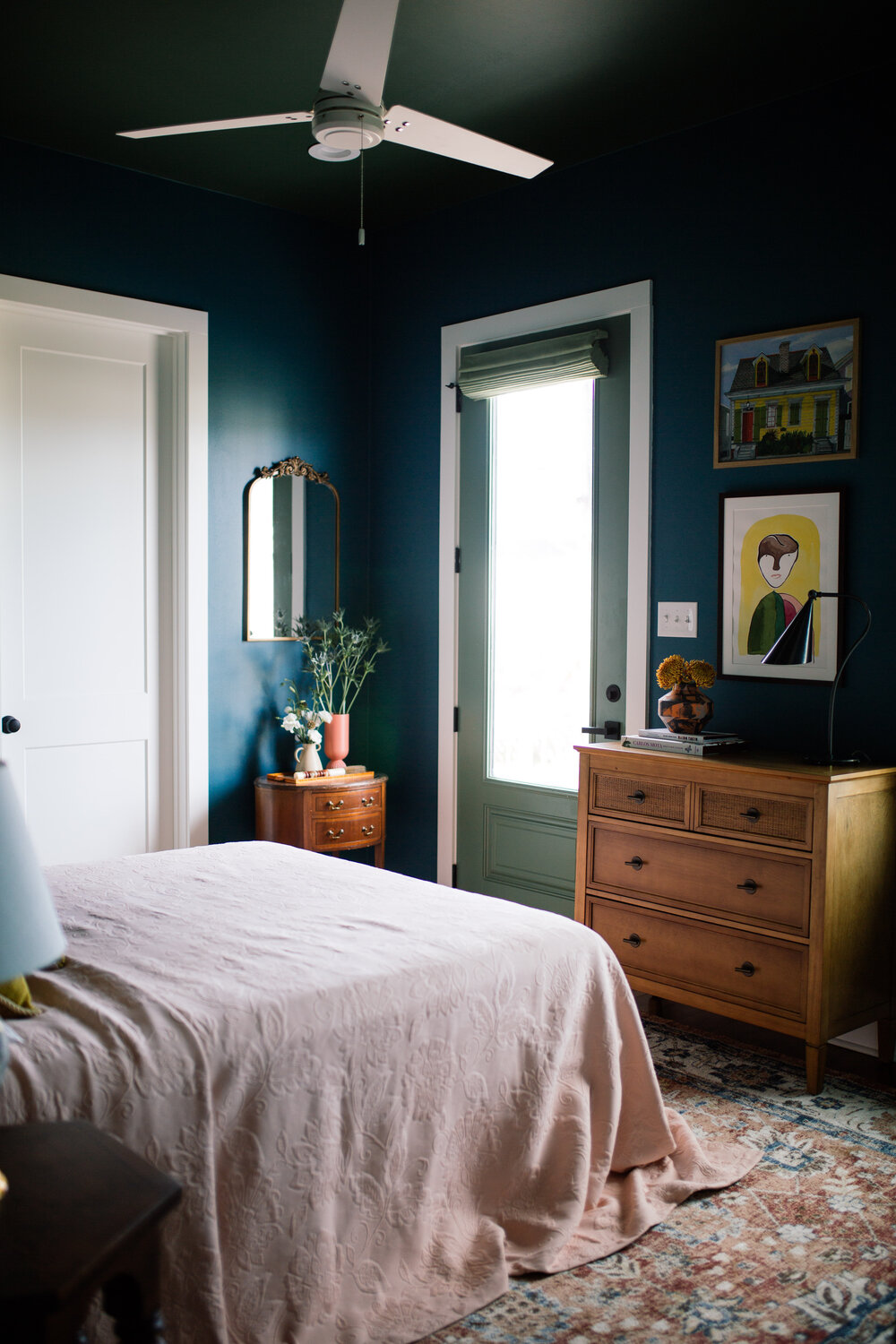 Let's discuss this bed. I chose a simple and versatile honey wood platform bed frame from Home Depot's Stylewell collection, since I knew I was gonna use a vintage headboard. The mattress is Beautyrest, which I've tried before. I love that they use sustainable materials to promote cleaner oceans. The headboard I scored at a vintage shop. I've never seen anything like it. It's a hand painted screen but also seems to have some Asian design elements. I found this one from a local vintage shop in New Orleans called Merchant House and the vendor is Finch Hatton Design.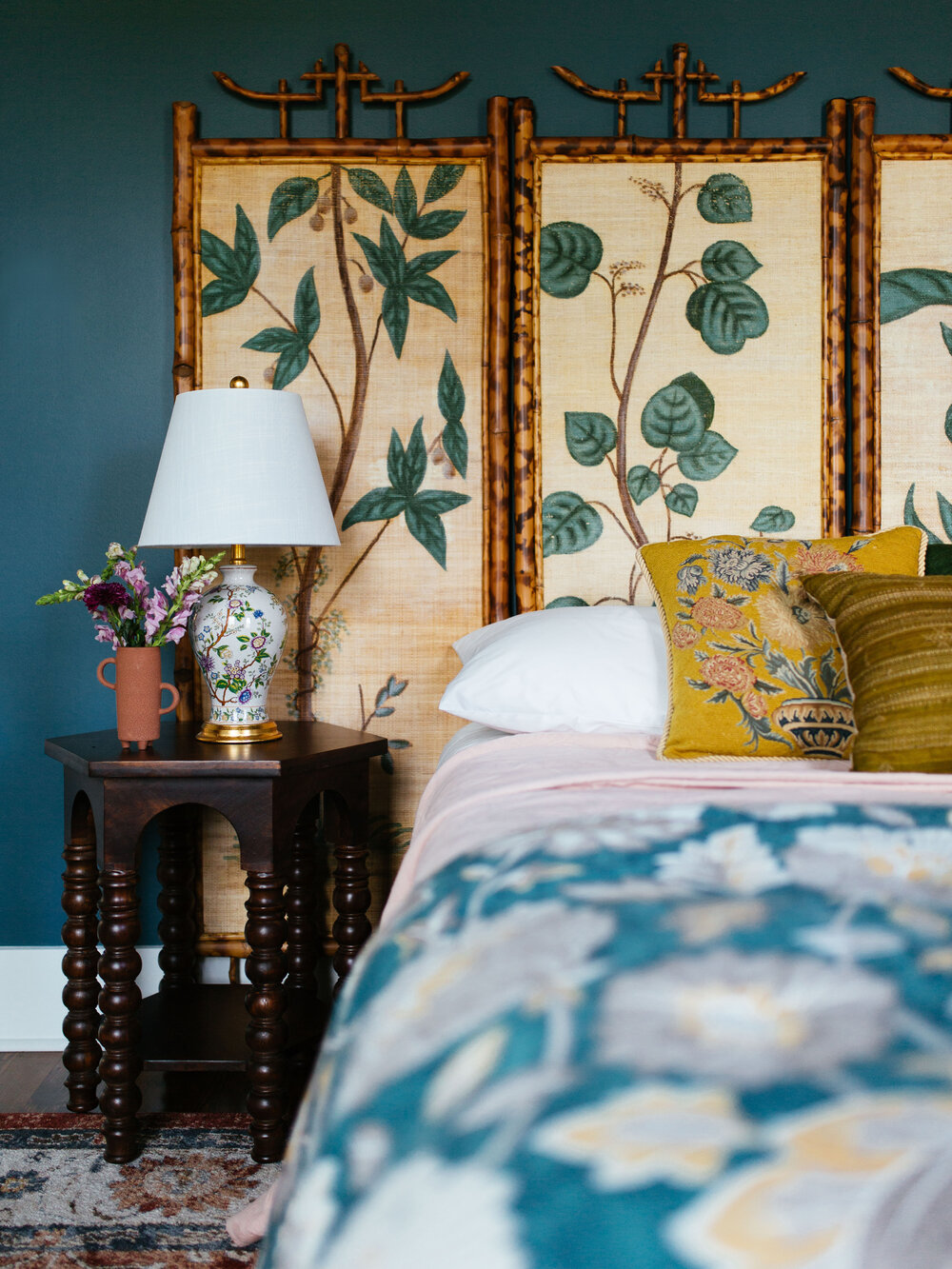 The bedding offered a great opportunity to continue building my color story. To stick to the same family, I topped off these classic white organic cotton sateen sheets from The Company Store with a soft coral coverlet. For even more harmony — and more flowers! — I also added on a teal comforter that will also amp up the coziness when it gets a little cooler. Believe it or not, New Orleans actually gets below 30°F in the winter. And speaking of colder weather, I'm planning to swap out my sheets for some soft blue plaid flannel ones when I need a little extra warmth, and just because I always like to change things up, a damask duvet cover is a great option to have on hand when I want to mix up the bedding again. All these warm bedding options are from their Home Decorators Collection.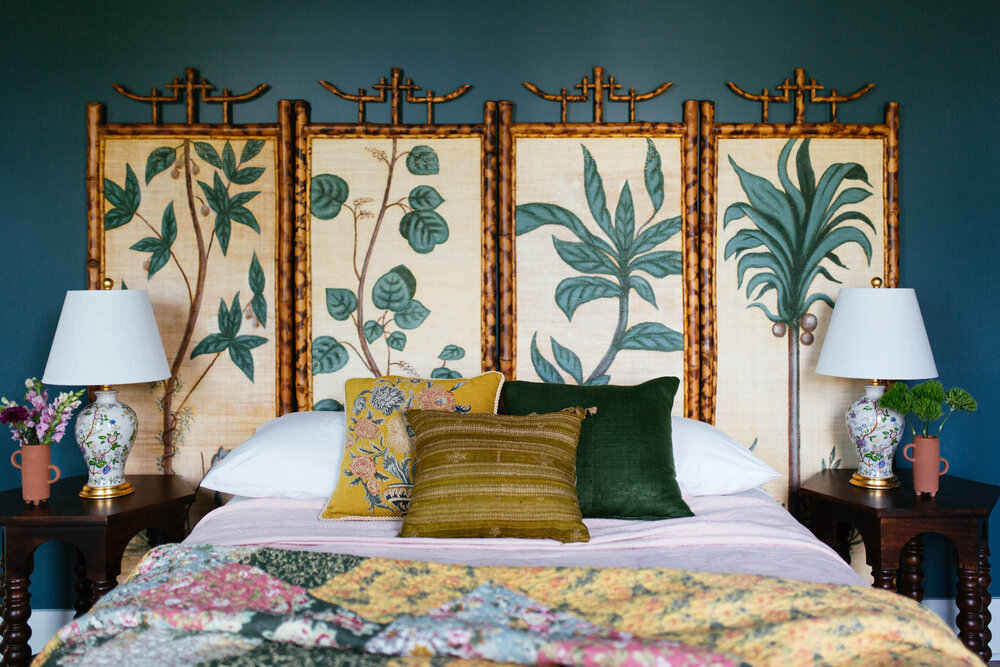 On either side of the bed, I placed a matching set of hexagonal walnut end tables from Home Decorators Collection. I love the hext top, arches, and turned legs. I've used them before for another makeover and I've always thought about having them in my home. I would have had to hunt the flea markets forever to find something so perfect! I paired it matching Chinoiserie ginger jar lamps to add more florals into the mix. So, I also tried another look, which I think it's a bit granny chic with this antique style quilt. What do you all think? Haha!
After layering all those cooler tones, I wanted to warm things up with terracotta and coral hues for a nice balance. I've always believed a good area rug is a smart way to unify a space, and this Unique Loom had everything I was looking for: The colors are perfect, it has a floral motif, and it has an antique, lived-in look that I love.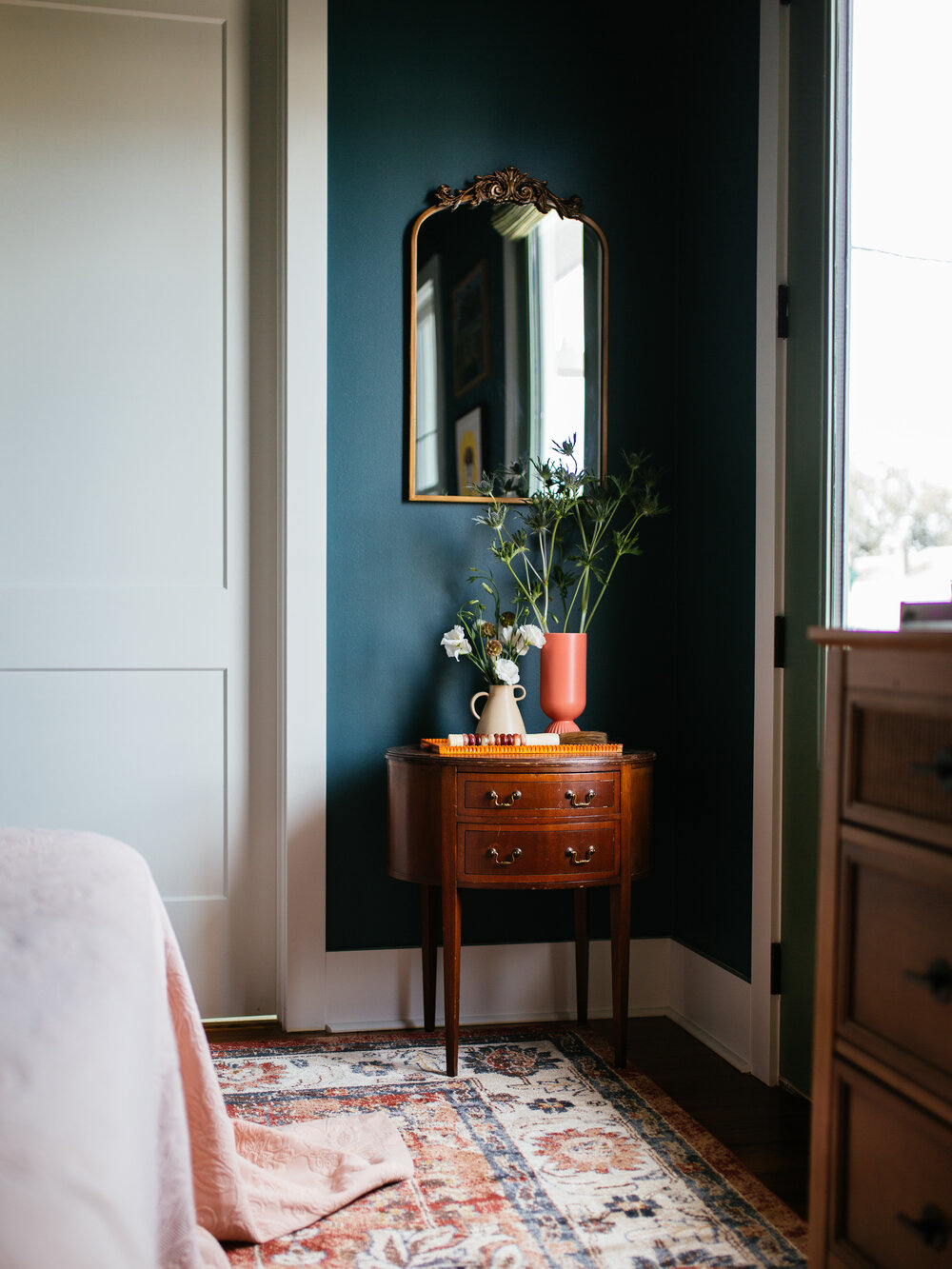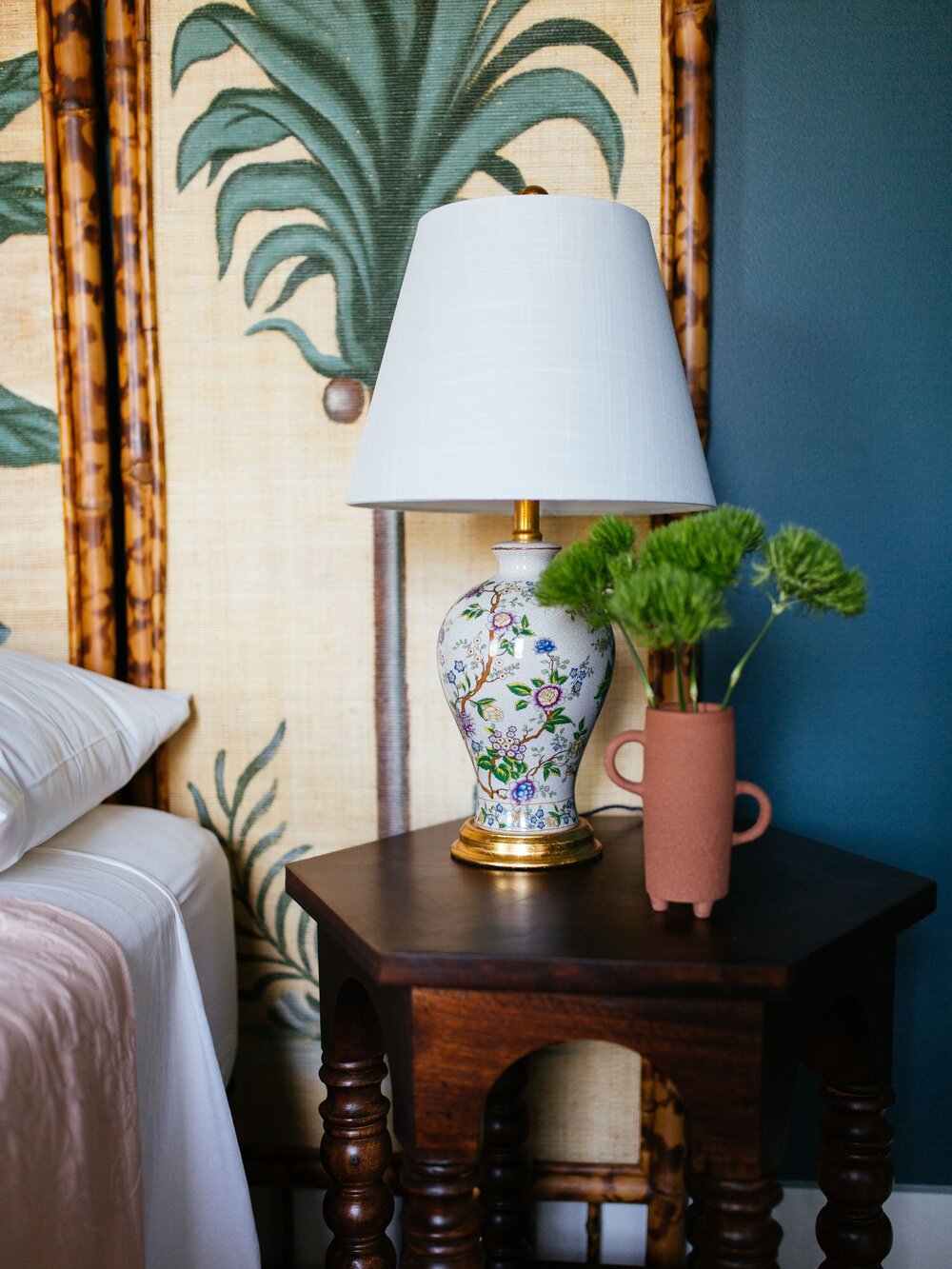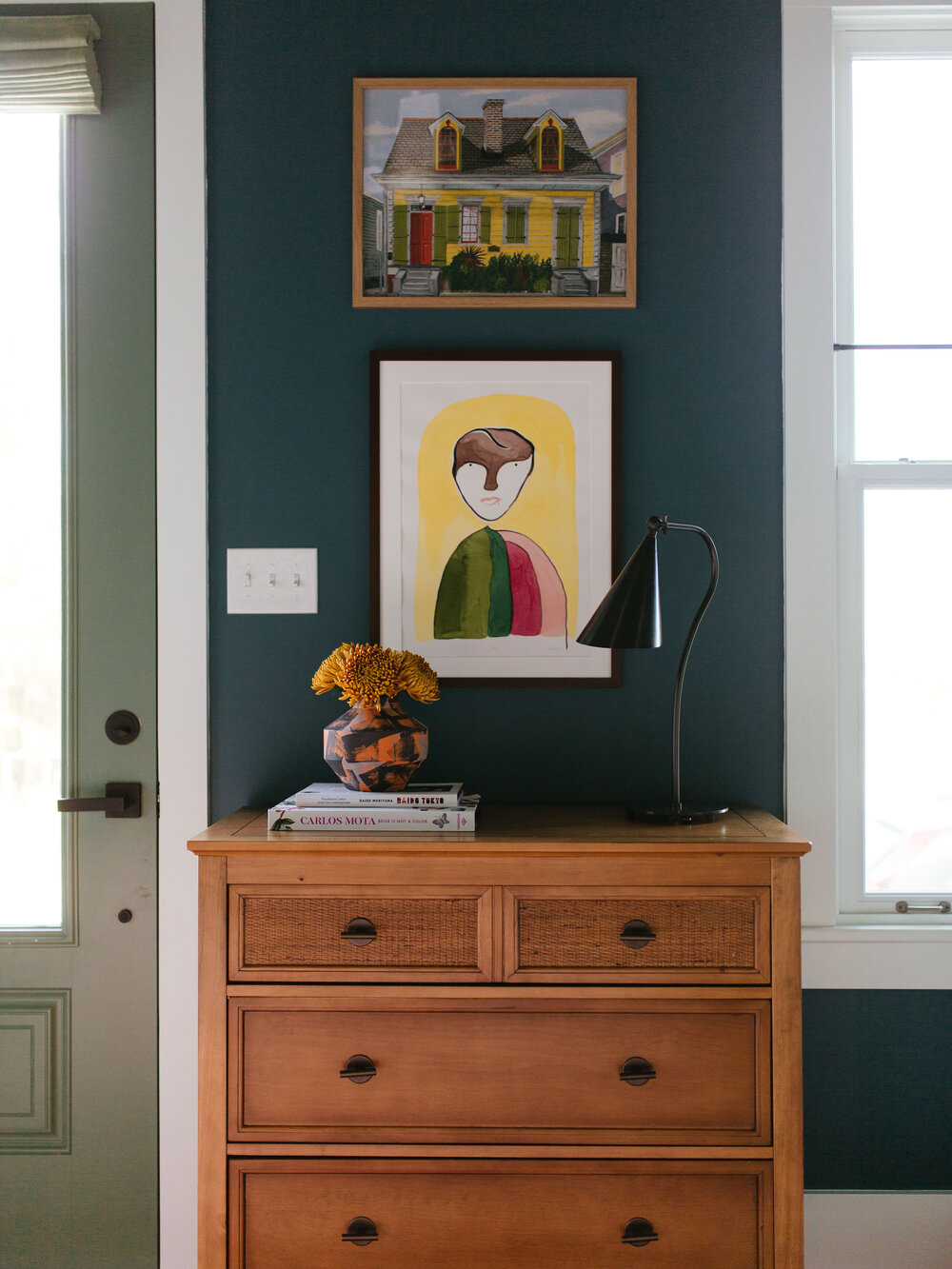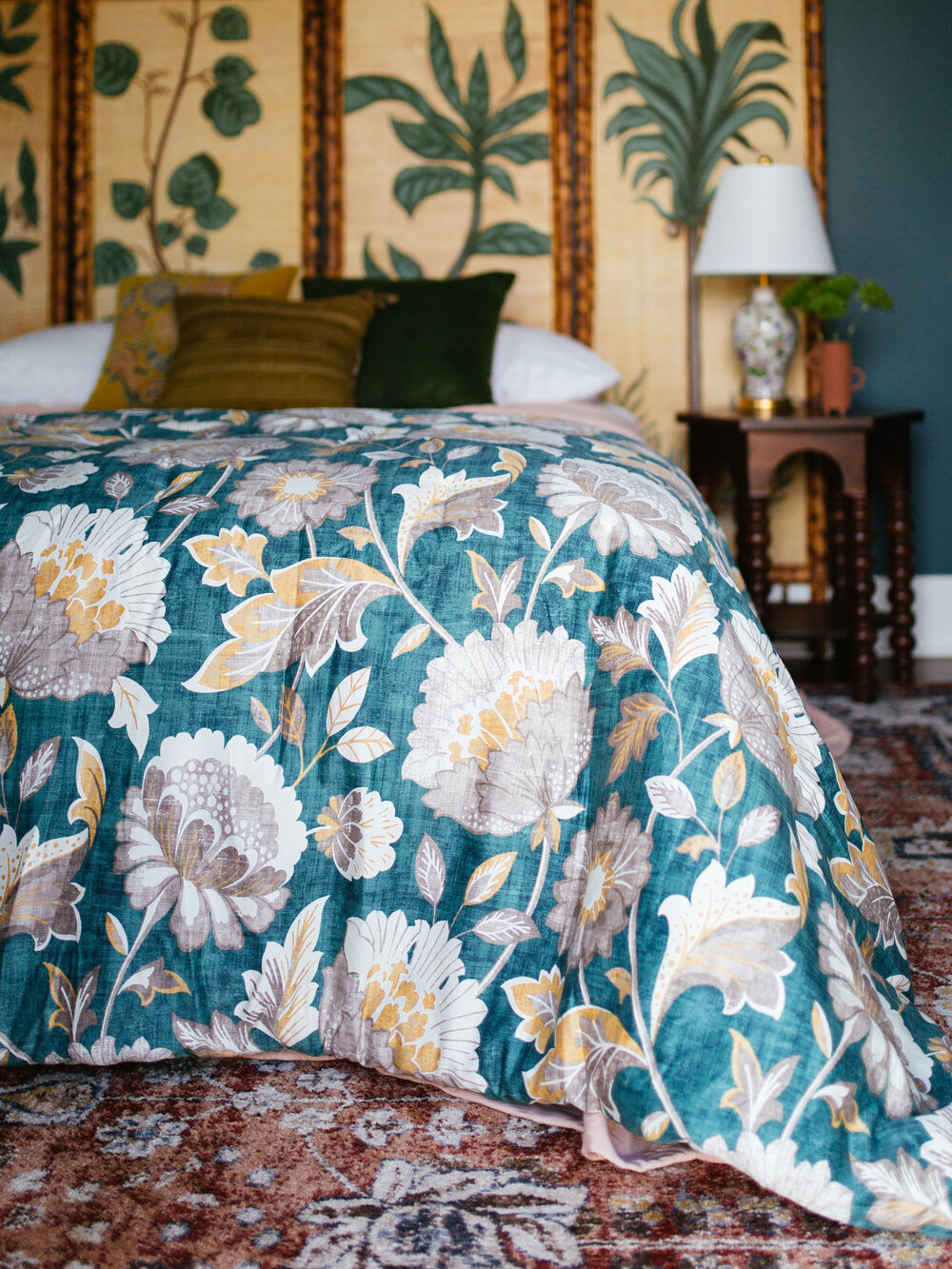 And to add an earthy feel to the space, I picked out this wooden dresser from The Home Depot's exclusive label, Home Decorators Collection. They have so many wonderful designs in their collection. And I always gravitate towards pieces with interesting details and I love the woven detail on the top drawers on this dresser. Also digging the antique style gold framed mirror I placed by the door above a vintage piece. You really can't even tell the mirror isn't vintage!
But as always, I wanted to include some elements of modernity, like the black table lamp which adds some sleekness.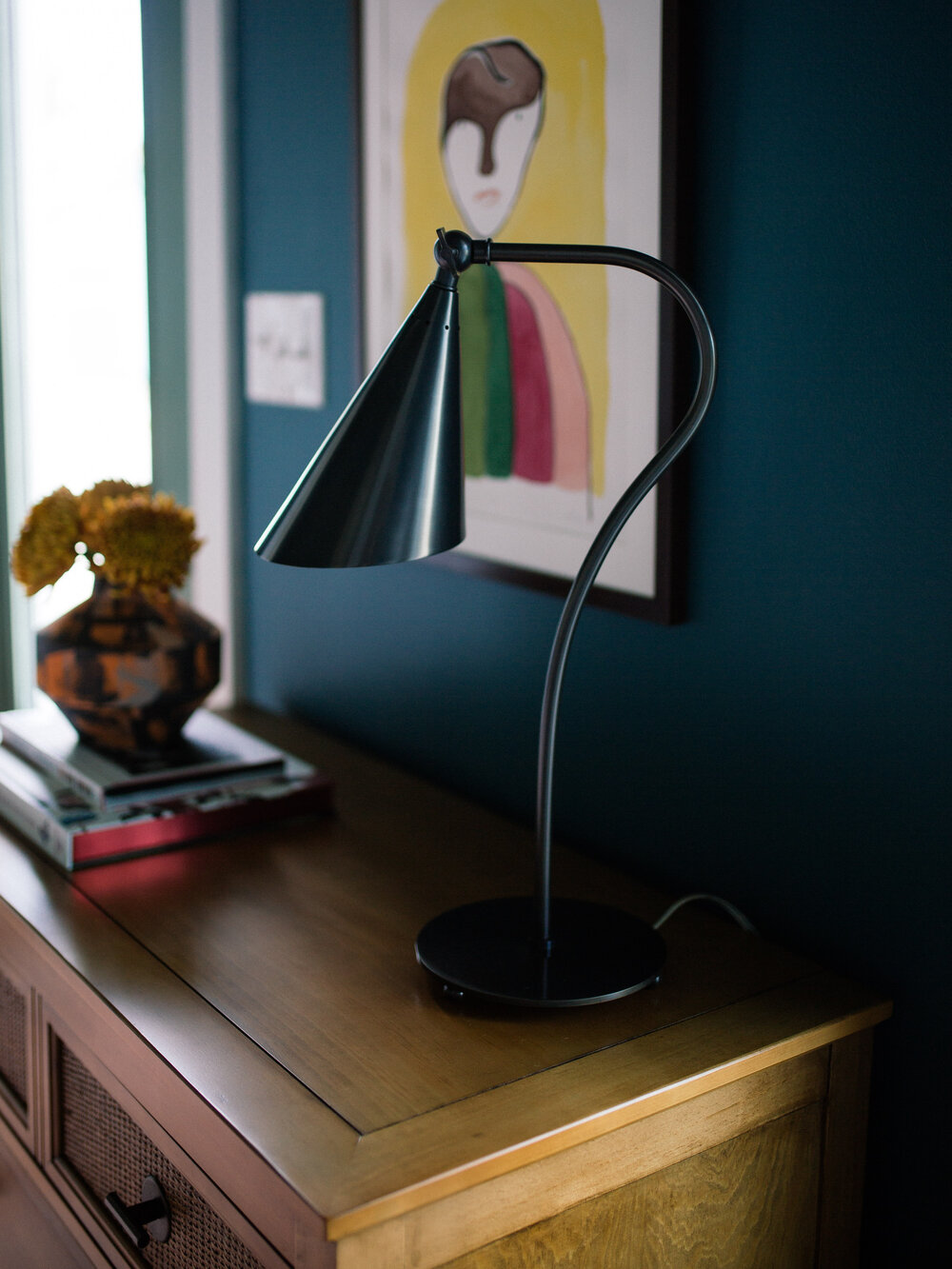 The final look feels balanced and soothing, but also eclectic — from the mix of old and new — in a way that's ultimately me. And when you're trying to create a sense of home in a new space, that's pretty priceless. And speaking of prices, I couldn't have done it without so many standout pieces from HomeDepot.com/decor, which just so happens to be offering some serious decor deals for the holidays. So keep your eyes peeled for holiday gifts and stylish pieces for your own makeover!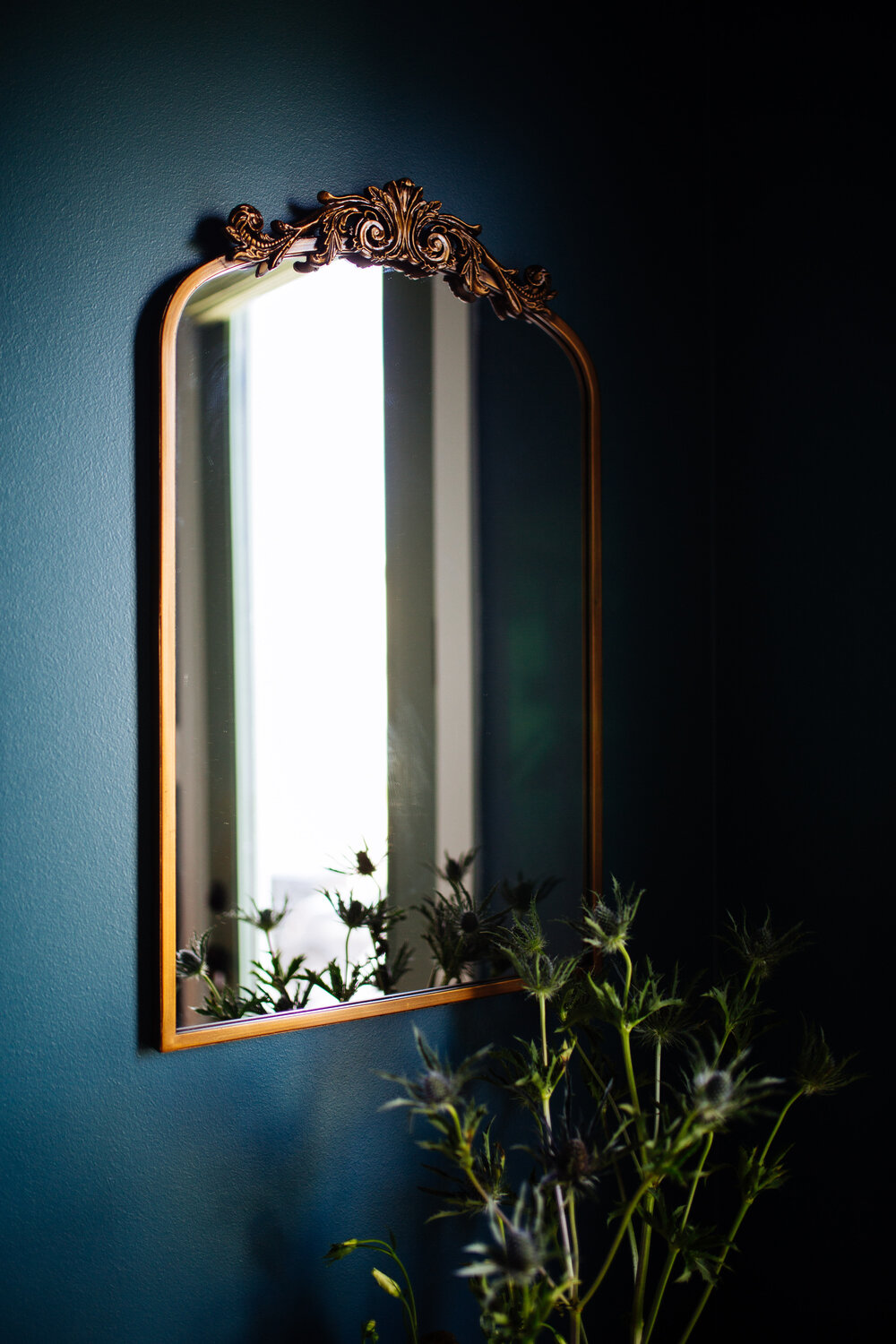 ---