Before and After: Originally Lacking in Character, This House Is Now Full of It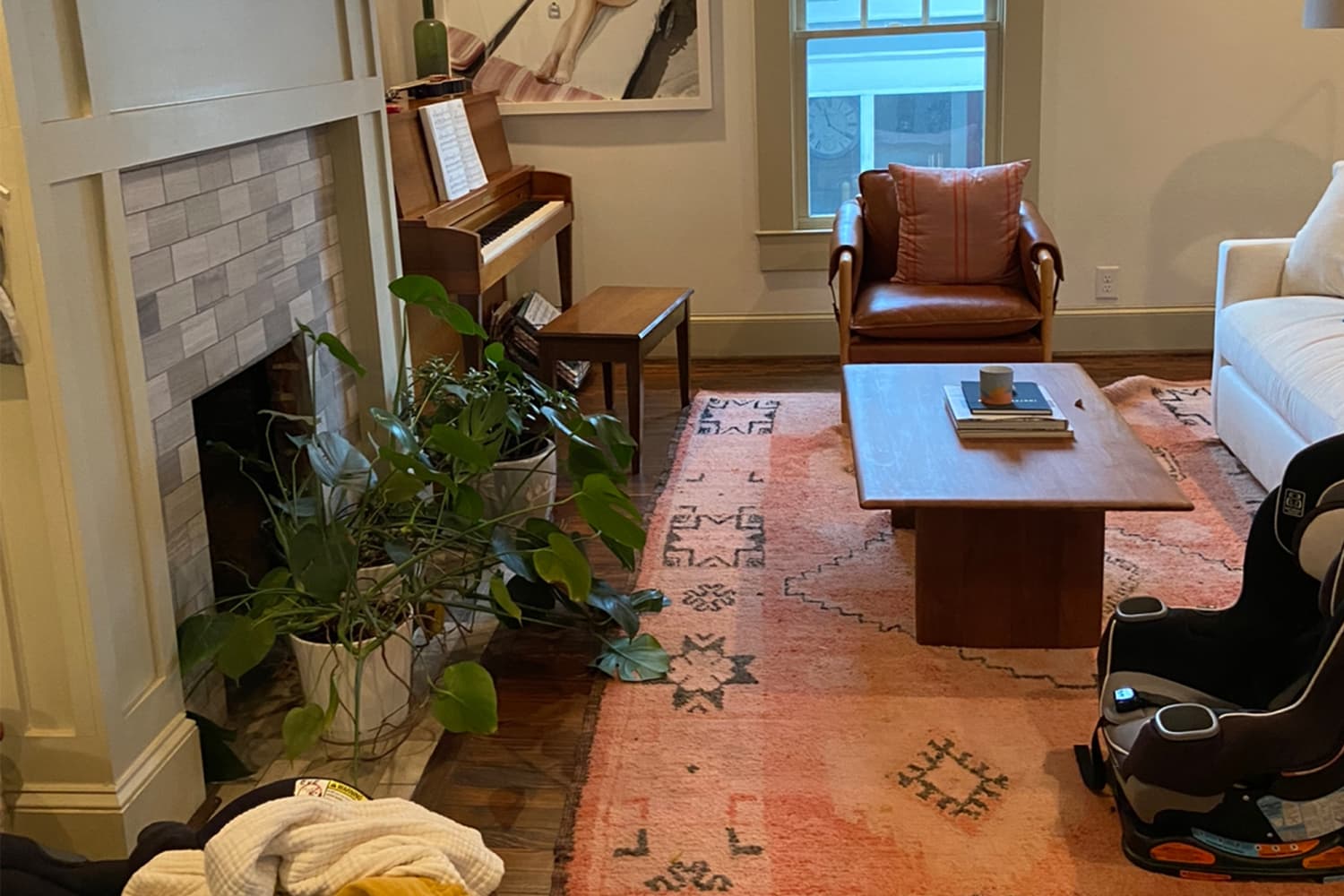 We independently select these products—if you buy from one of our links, we may earn a commission. All prices were accurate at the time of publishing.
Homeowners' Name: Emily and Sean; two children, Eve (6) and August (2); and beloved dog, Hank
Design Professional's Name: Shelby Adamson of Little Black Fox
Location: Decatur, Georgia
Type of home: Single-family duplex
Years lived in: 3.5 years, owned
When Emily, a psychotherapist, and Sean, a creative director, learned they were expecting a second baby, they started looking for another home. "Sean went to an open house for our future home in the fall of 2019 while I was out of town," Emily begins. "He called me and said, 'I think we need to place an offer right away — this is the place we've been looking for!' The market in Atlanta is so wild and fast-paced and he was right; the house received multiple offers and we were lucky enough to win our bid."
Emily explains that though the house was clean and freshly painted when they moved in, it was lacking in character. "As the pandemic closed in and we were all living and working from within, we wanted to add more of ourselves and our taste," she writes. "That's when we engaged with Shelby at Little Black Fox — we needed someone to help ensure cohesion in our vision, and give us permission to be bold within this clean slate."
Our style: One of the reasons we engaged with a designer is because our style doesn't necessarily jibe with the bones of our house. We are drawn toward a West Coast modern style, with some bold colors and textural richness, and our house (renovated in 2013) is a respectable modern Craftsman in the Southeast. Shelby helped us walk the line between respecting the home we had while incorporating our design inclinations.
Inspiration: It's easy to be inspired by SO MUCH gorgeous design online, and that inspiration can be overwhelming. We were led by the feelings we wanted within the rooms. We wanted spaces that feel easy to unwind in, with some havens from the chaos of life with two young kiddos.
I was an early Etsy adopter and have always wanted to support artists and artisans, and to know where my art came from, so much of our inspiration came from pieces we've collected over our years together. 
Biggest challenge: We've been together since our years in Brooklyn, and some of the things that have traveled with us were apartment-sized. While we've upgraded over the years, we really don't always have an eye for size/proportion. It was important in decorating these rooms to get the proportion of things (lighting fixtures, art, rugs, etc.) right for the space.
Favorite element: The music room is such a peaceful and moody space, with the deep monochromatic blue from floor to ceiling. My favorite thing is a beautiful commissioned painting above the fireplace by artist Ana DiGiallondardo — it adds ethereal lightness to the room and reminds me of looking at the sky. Ana paints in her studio in the California desert, and pieces of sand are captured under the paint. When I look at it, I feel things!
Biggest indulgence: Refacing the builder-grade fireplace. I had seen these velvety Cle Tiles and liked the idea of incorporating a stray star tile or two amongst the monochromatic tiles. We decided to do one star in the corner. It's the kind of longer-term design choice that doesn't take "resale value" into account: It's really just for us!
What's your absolute best home secret or decorating advice? Shelby helped us identify the common threads in our taste by asking specific questions about each inspiration photo we brought her. You can do this, too! Look at your pins or saved images and ask: What specifically do I like here? Is it color, texture, light, space?
Thanks Emily, Sean, and Shelby!