15 Trending White Granite Countertops Ideas in 2022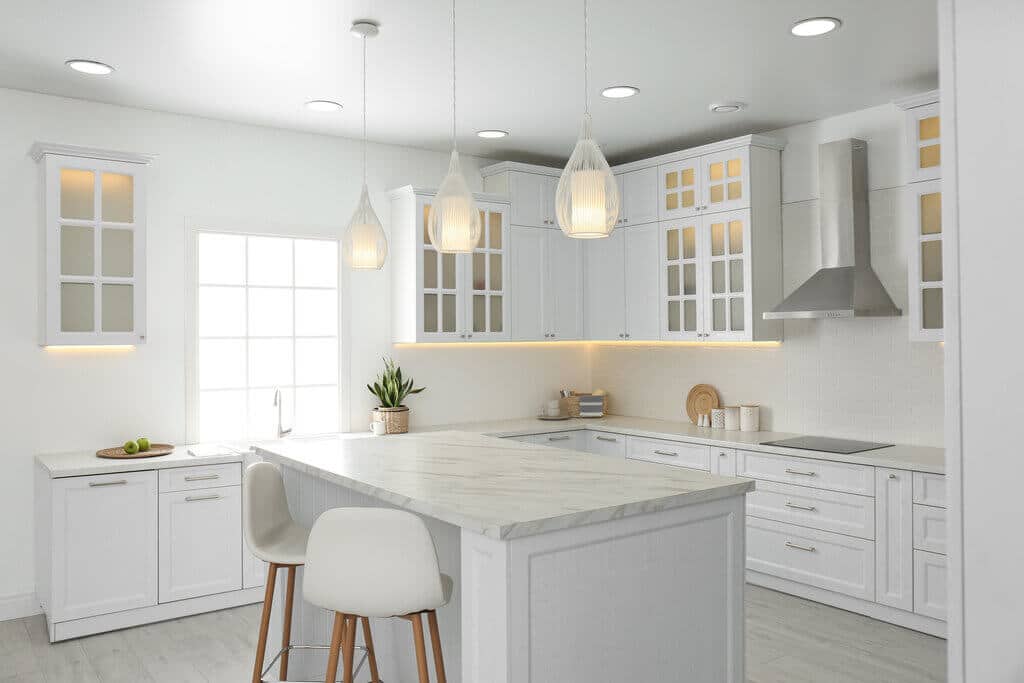 A house is always divided into various zones. Public, private, and semi-private. The most critical area under the public zone is the kitchen and dining for informal chit-chat and stirring conversations. These are the spaces that your guests will notice so why not make it look trendy yet classy with white granite countertops. As Charles Eames has rightly said, "The details are not the details, they make the design."
When it comes to long-lasting countertops that are also attractive, it is hard to beat granite. It is one of the toughest natural stones available and is highly resistant to scratches and chips. 
Want to create a lasting impression? Look no further, White granite is trending on the style charts in 2022!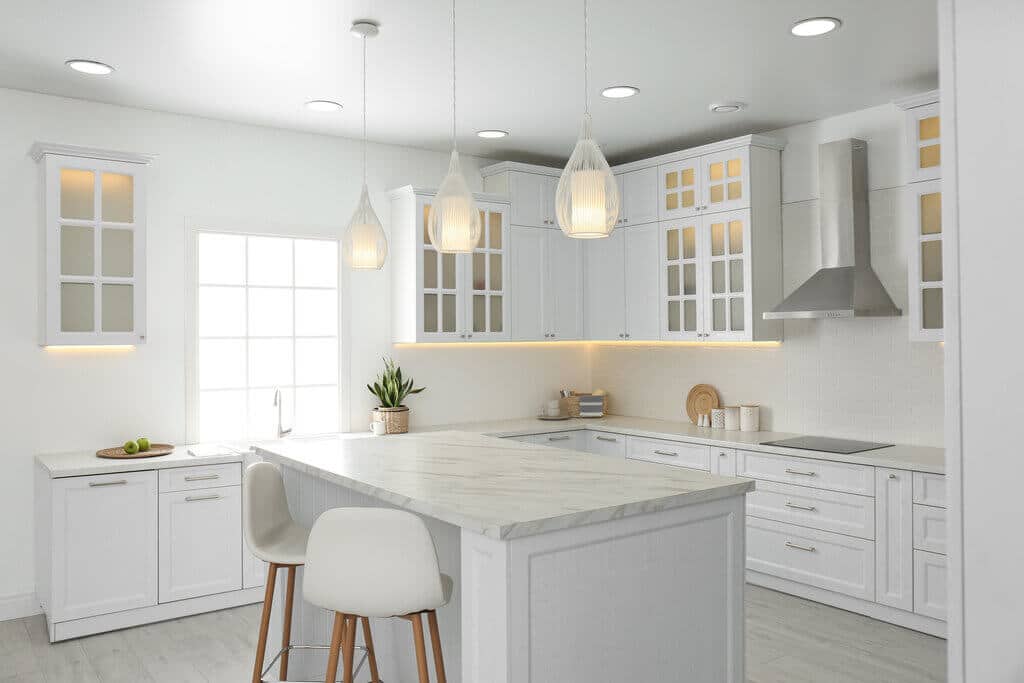 Source: kasasdecoracion.com
Magic of White –

White granite consists predominantly of quartz which gives it a bright and reflective quality. 

Spacious look – White granite countertops make the space appear larger, brighter, and more open making your kitchen look more inviting.
Diverse Range – White granite has a ra

nge of shades. It can go from snow white to more ivory or creamy white, which makes it unique and versatile. 

Modern yet Classic Appeal – White granite c

ountertops can be a classic choice but they can easily be incorporated into a modern design. 

A Canvas for other elements –

Due to their minimalistic

look, white granite countertops act

as a blank canvas, enabling you to highlight other elements in the kitchen.

Durably Yours! – Apart from just aesthetics, white granite is durable and heat resistant. It is also sleek and poreless, keeping the kitchen counter clean and bacteria-free.
Top 15 Different Kinds of White Granite Countertops 
Do you want your kitchen to look unique and efficient? Look no further as white granite countertops are your best choice. Aesthetic and durable, here are some unique options of white granite colors to choose from:
1. Adino White: Warm and Neutral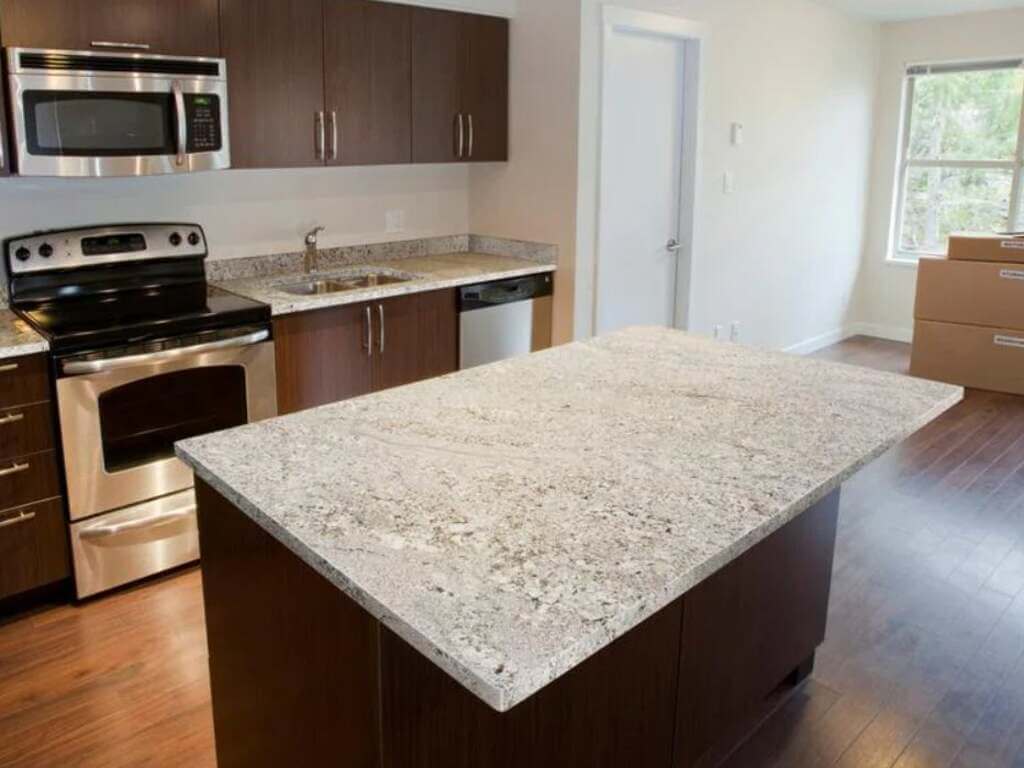 Source: bobvila.com
If warm neutral tones are your aesthetic this is granite color is the choice for you. Adino white granite originates from Brazil. It can be polished or made less reflective or leathered depending on the aesthetic of the space in which it is going to be used. It can pair well with stainless steel. A relatively affordable choice, it can be used both indoors and outdoors.
Key Features: Adino white is a popular white granite suitable for a variety of styles. Inclusions are beige brown charcoal or black. It has a rippled design, with speckles on it.
2. Moon White: Subtle and Minimalistic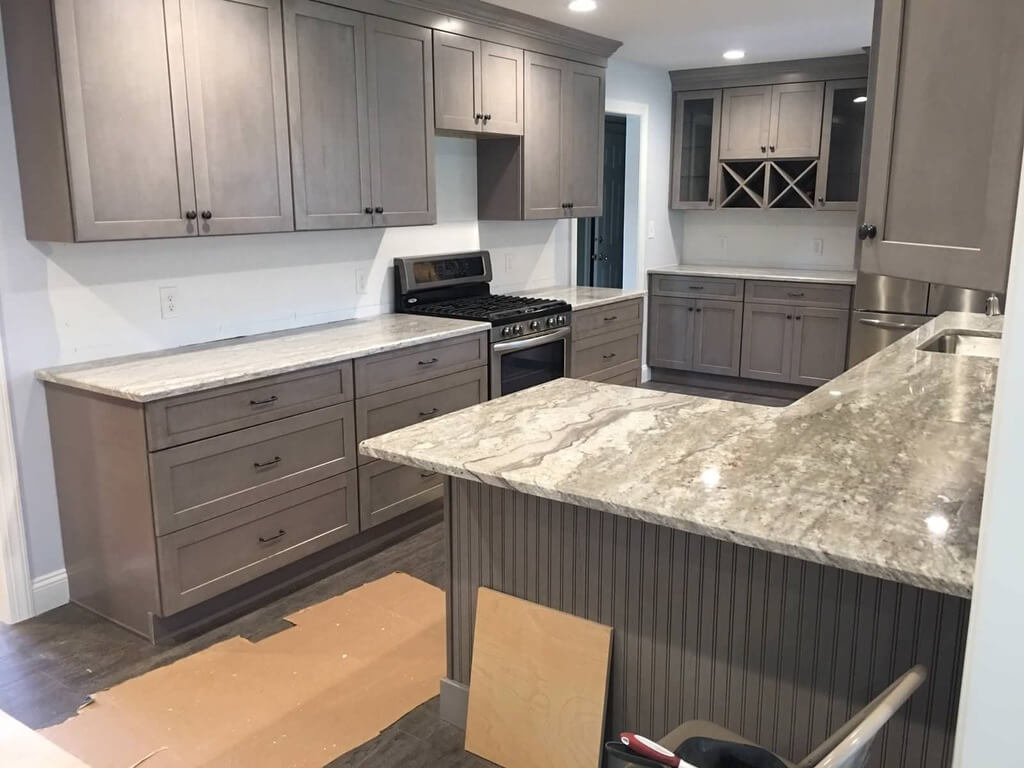 Source: hzcdn.com
If an achromatic color scheme is your aesthetic this is the choice for you. Moon white granite color originates from India. As the name suggests it is one of the lightest white granite colors. Matches with any decor but would be best suited if the space has an overall minimalistic approach. It has swirls and flecks which are more subtle than other granite countertops. Laying on the more affordable end it can also withstand sub-zero temperatures. 
Key features: A versatile granite with subtle swirls and flecks. Best suited for contemporary settings. Includes shades of ivory, silver-gray and black. 
3. White Ice: Create A Dramatic Impact!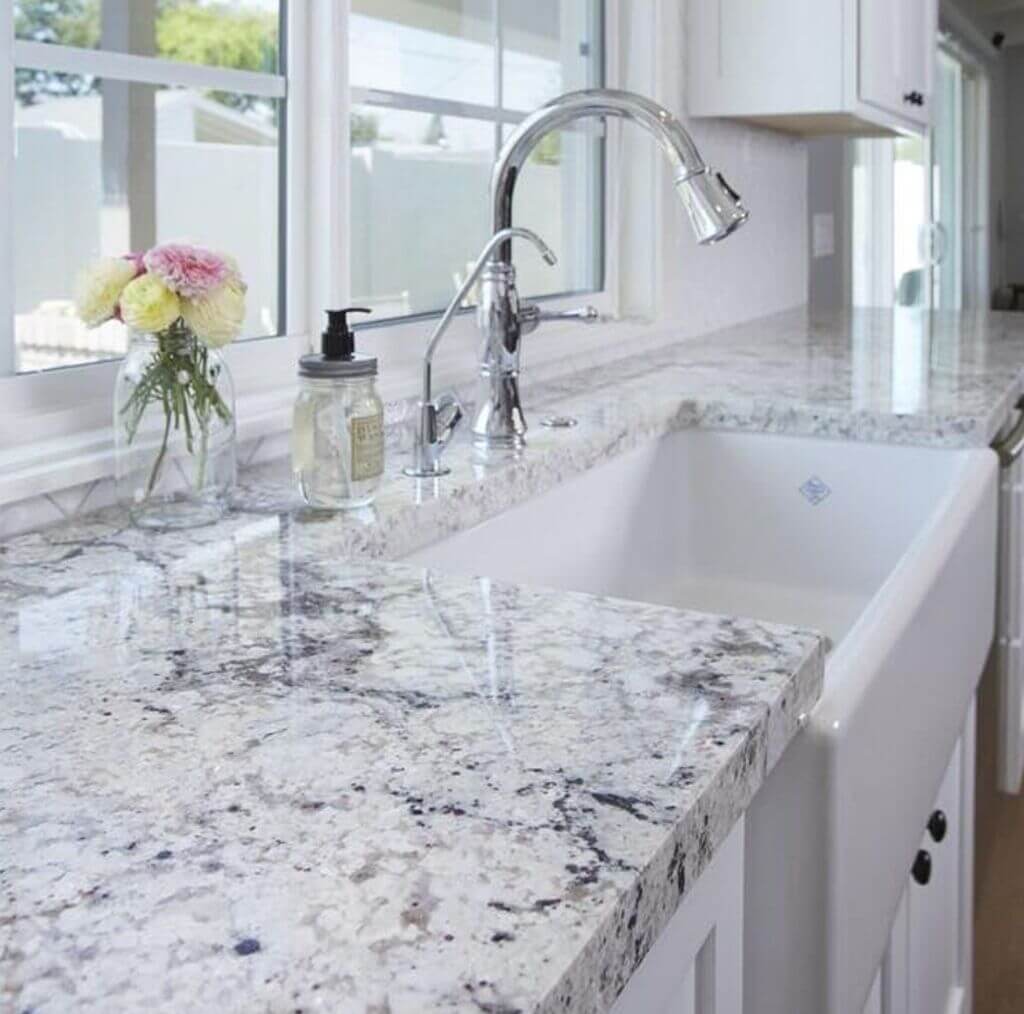 Source: pinimg.com
Looking for pops of blue and brown on your countertops? This is granite countertop color is the perfect one for you. White ice countertops originate from Brazil. It has strong veining and has a dramatic impact. More leaning towards the modern interior aesthetic it can be a striking contrast to dark colors. It has quartz flakes which increase refections, adding sparkle to the surface. Comparatively less common, due to its bold appearance, it commands premium prices. 
Key features: It has a high visual impact and falls on the luxurious end. It includes gray and black in its veining along with bright pops of blue and brown. 
4. Alaska White: Cool and Warm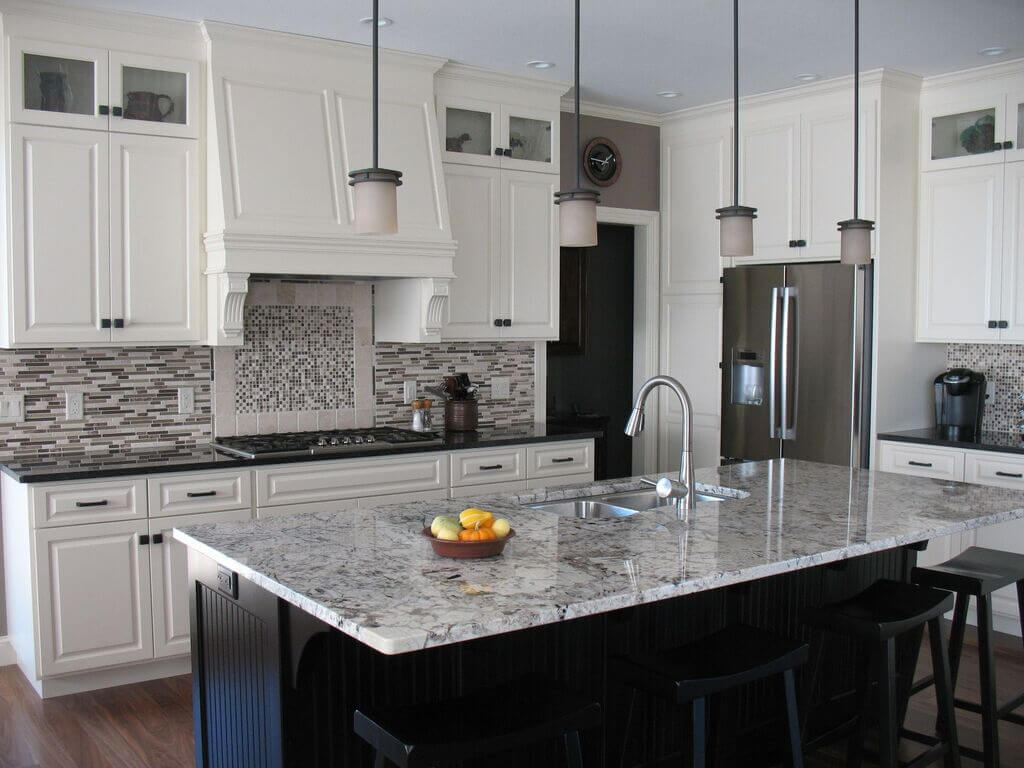 Source: mid-america-granite.com
Think of white snow on black mountains and you have Alaska white granite countertops colors. This countertop is the perfect blend of cool and warm tones bringing to mind the Alaskan landscape. Featuring slight movement with moderate variation in color, tone, granularity, and pattern. It has a contemporary feel which can suit both dark and light cabinetry. The brown veins on it can be paired perfectly with wooden elements. 
Key Features: It is a stunning blend of light granite color with icy silver, foxy white, rich cocoa, and deep onyx. It stands at a higher price range due to its striking features.
5. Alps White: Classy and Timeless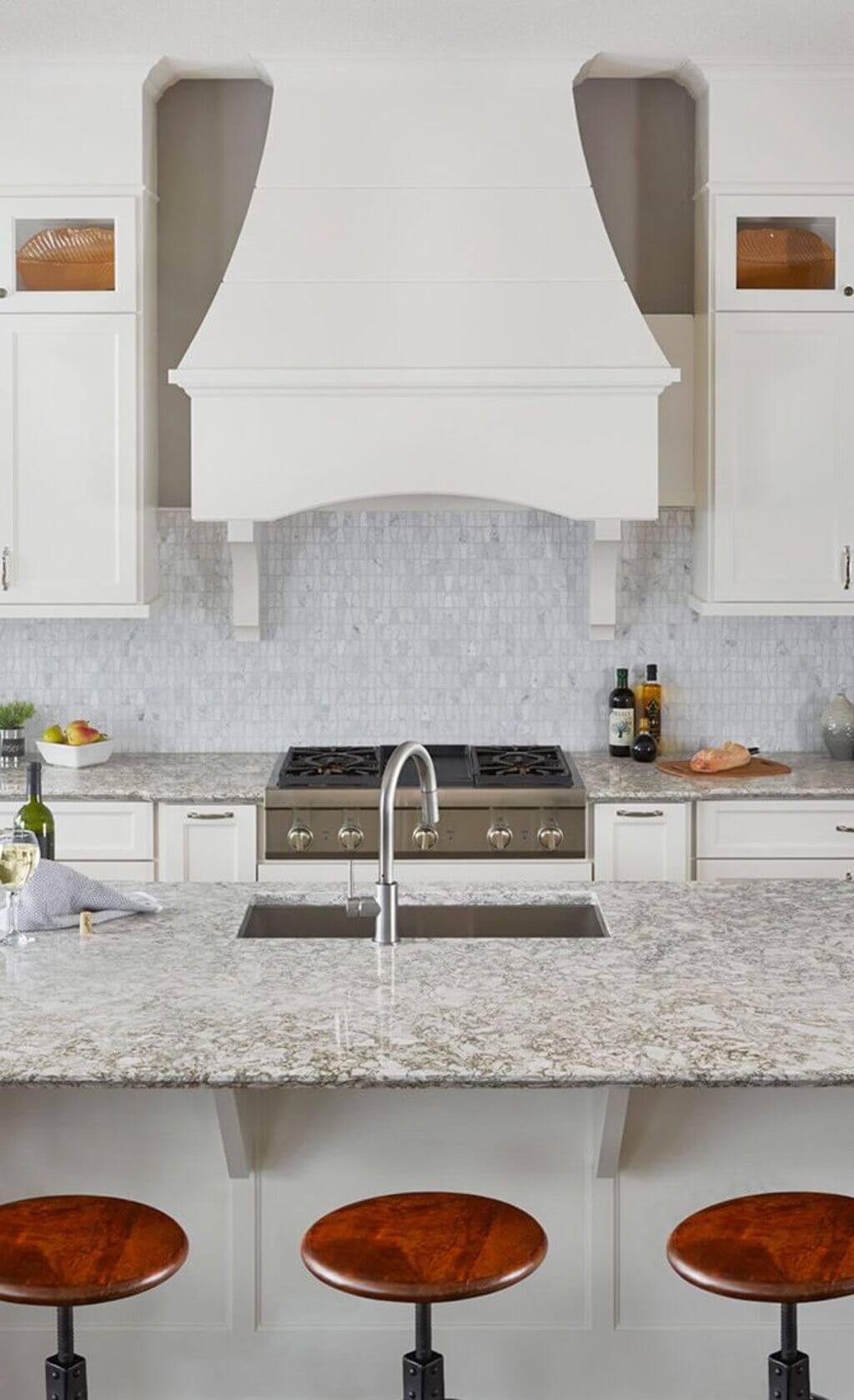 Source: widencdn.net
Looking for a sophisticated yet trendy white granite countertop? This is the ideal option for you. Alps white countertop from brazil works well with different design styles. Be it a traditional or contemporary design this countertop will complement both. It has slight movement and variation for a better appeal. The white crystals in it give it a beautiful shine when light hits, adding to that sophisticated classy element. It can be used for backsplashes as well. 
Key Features: It consists of glimmering crystals, Bordeaux flecks, and bold black giving it an achromatic appeal. This countertop stands in the mid-range price. 
6. Colonial White: Strike a Contrast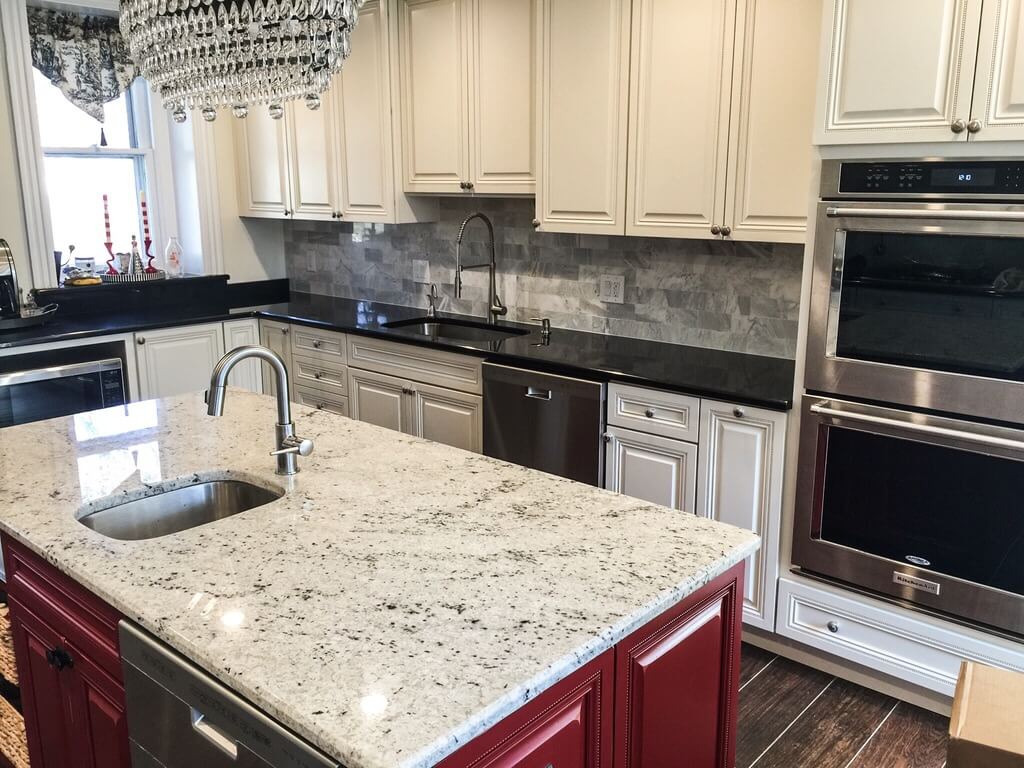 Source: lgsgranite.com
If you're looking for light granite color that will add warmth to your kitchen, this is the one to go for. This granite originates from India. These kitchen countertops soften the space while also creating a striking contrast against white cabinetry. Its slight movement and variation offer a continuous and cohesive feel because it doesn't have harsh pops of color. It's perfect for a rugged minimalistic interior when you don't want the surface to appear too polished. 
Key Features: Colonial white has black speckles and smoky grey accent colors. A hint of a rose pink mineral deposit is also a defining feature. It has an upscale appearance hence it leans towards the higher price range. 
7. New River White: Flowy Marble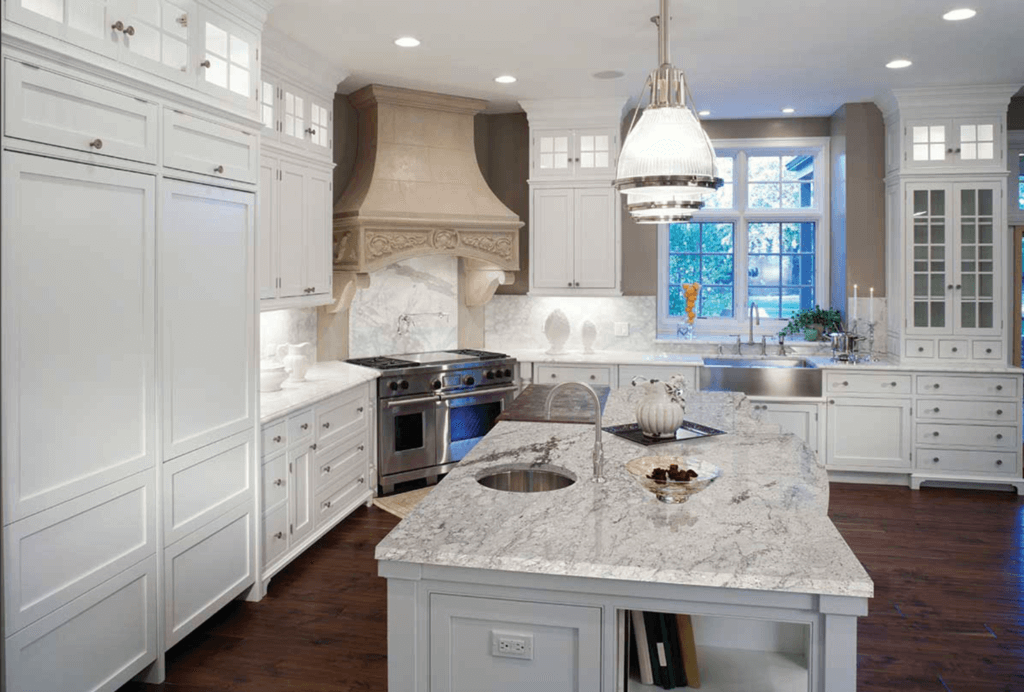 Source: residentialproductsonline.com
If you are into countertops with flowy marble-like designs rather than specks then this is the countertop you must go for. This granite has a great deal of wave-like variations making it dynamic and dramatic. White cabinets are the best option to complement this countertop to create a perfect achromatic design. Its white crimson accents make this countertop stand out and give it its own identity. 
Key Features: It consists of an alabaster bedrock speckled with dark red flecks and rich silver veining. Its great beauty always keeps it in high demand even then it falls under the mid-price range. 
8. Mystic Spring: Loud and Bold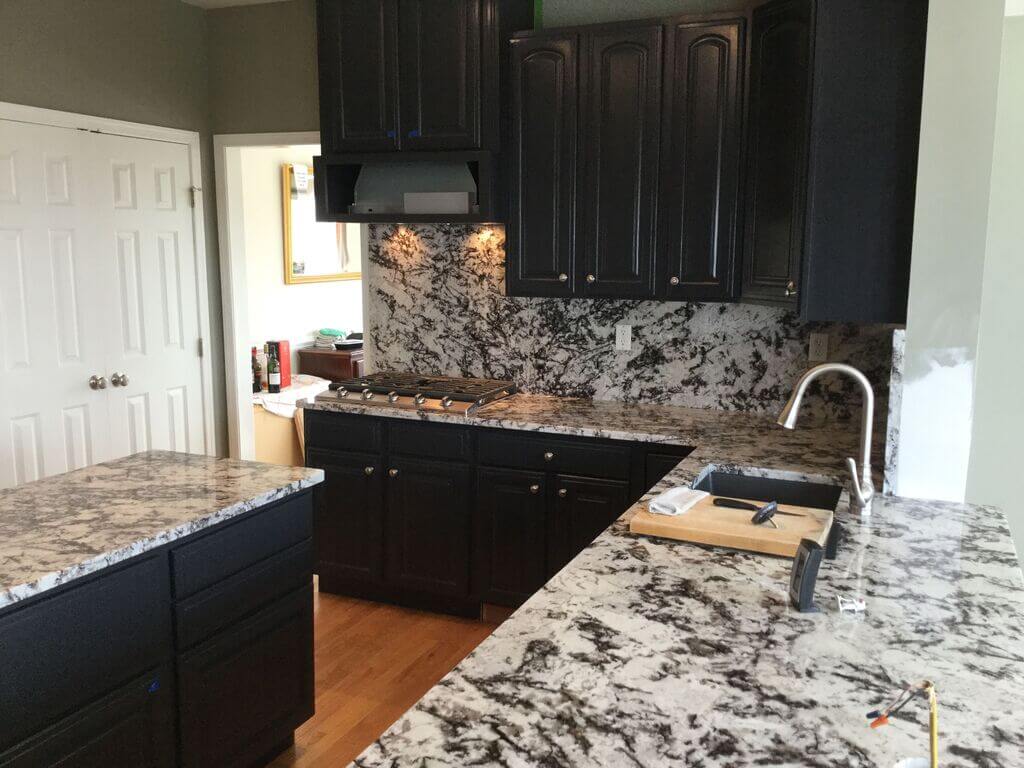 Source: pinimg.com
Imagine an abstract painting done in black and white, now think of it as a granite countertop color, you have to look further because this countertop is the perfect example of that. Versatility is the hallmark of this countertop since it can pair easily with many other premium surfaces. Comparatively loud and bold in movement and variations it is an elevating addition to traditional decor. It exudes a polished warmth when paired with dark tones. 
Key Features: It has an intricate blend of grays and whites enhanced by dramatic veining in darker gray and jet black. It is a top-quality countertop and falls on the higher end. 
9. Aspen White: Warm Gold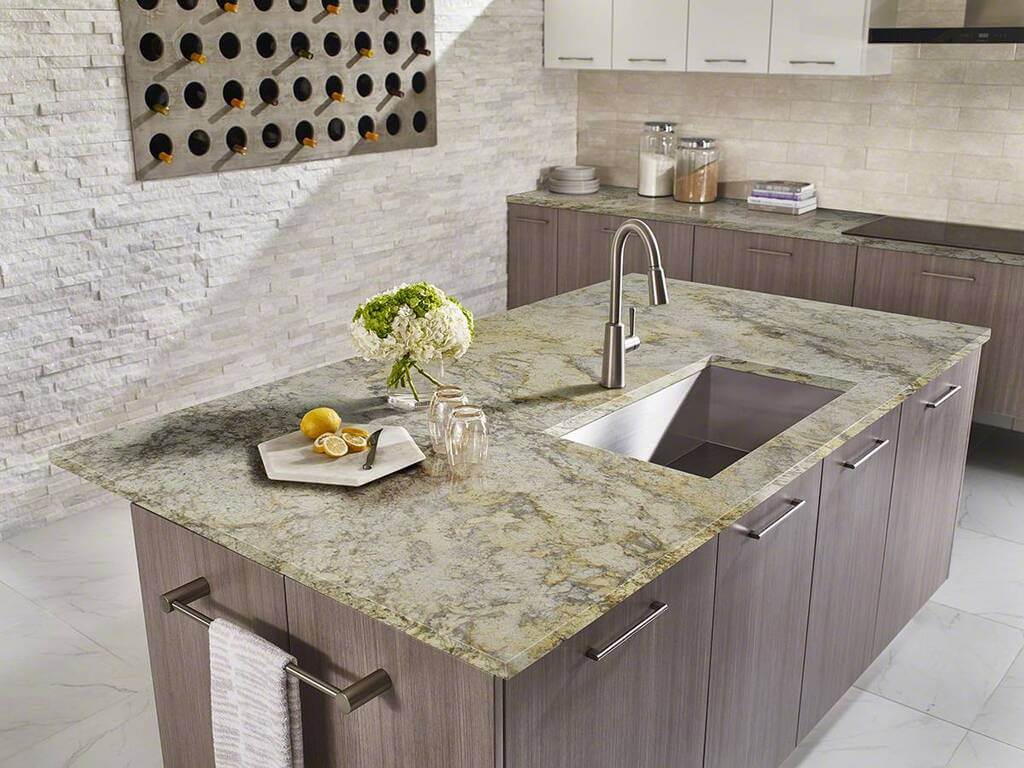 Source: expressuniontile.com
Into a gold rustic aesthetic? This granite countertop color is the best option.
Exuberant and energetic granite that is sure to impress. It has an elegant touch while also keeping the actual feel of the granite stone alive. Its neutral color makes it a perfect fit for any kind of decor. The veining throughout the granite is prominent and bold making this natural stone very distinguishable. To create a contrast in a minimalistic white kitchen, this is the best bet.        
Key features: Warm gold veins complement cool white shades and natural grays. It falls in the medium price range but has an expensive look. 
10. Thunder White: Striking White and Gray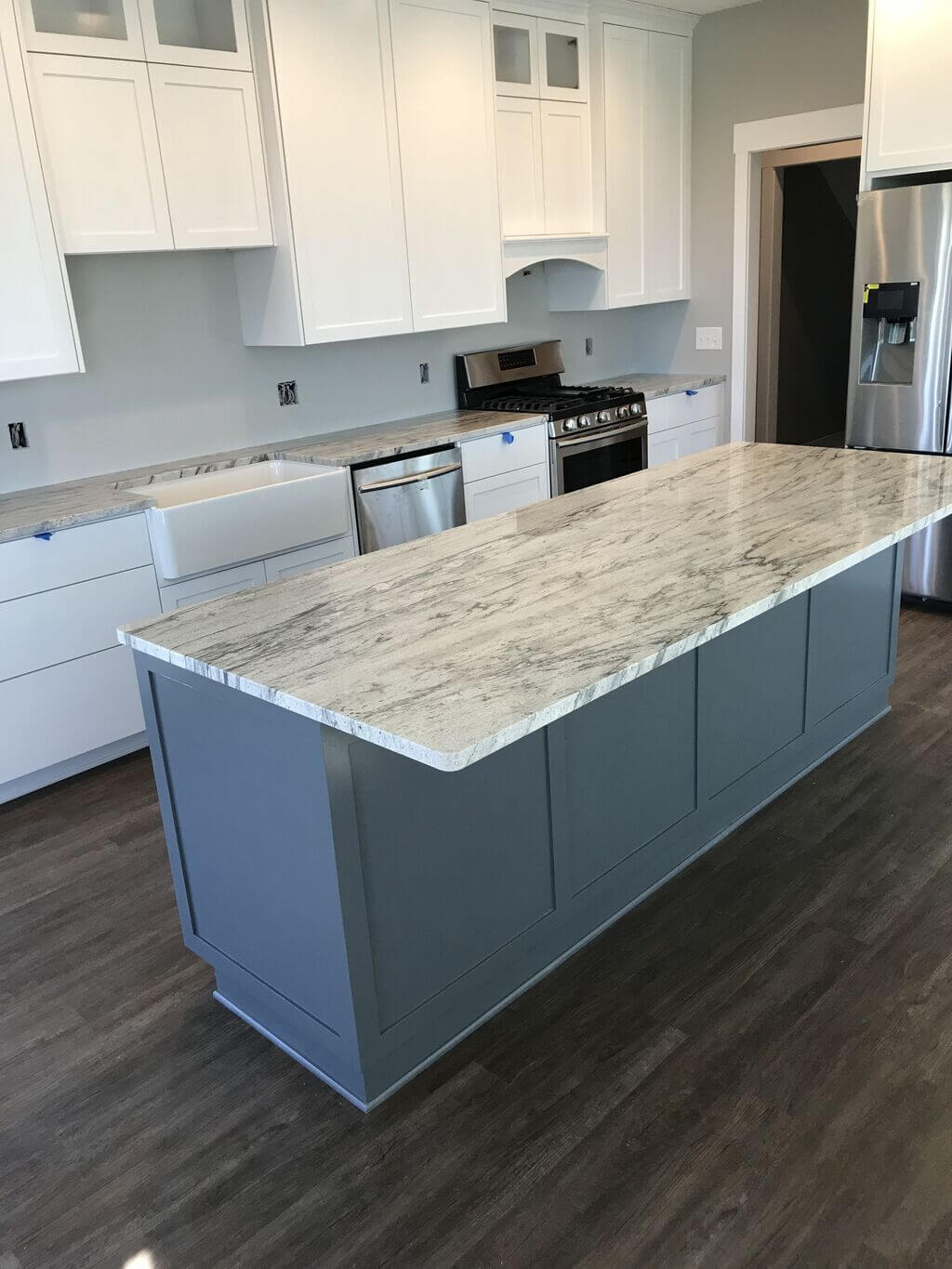 Source: pinimg.com
If you fancy the marble look but want something cheaper and easier to maintain then this elegant white granite countertops colors is the one for you. This granite variation goes perfectly with bold cabinet colors like navy blue or dark wood. It gives a modern minimalistic look. Compatible for residential and commercial use makes this granite stone is versatile. It is widely preferred in its polished form since it adds a nice finish to the whole space. 
Key Features: This granite stone has light gray bands and streaks with patches of dark gray and brown. It is affordable and versatile in design. 
11. White Galaxy: Crystal Charisma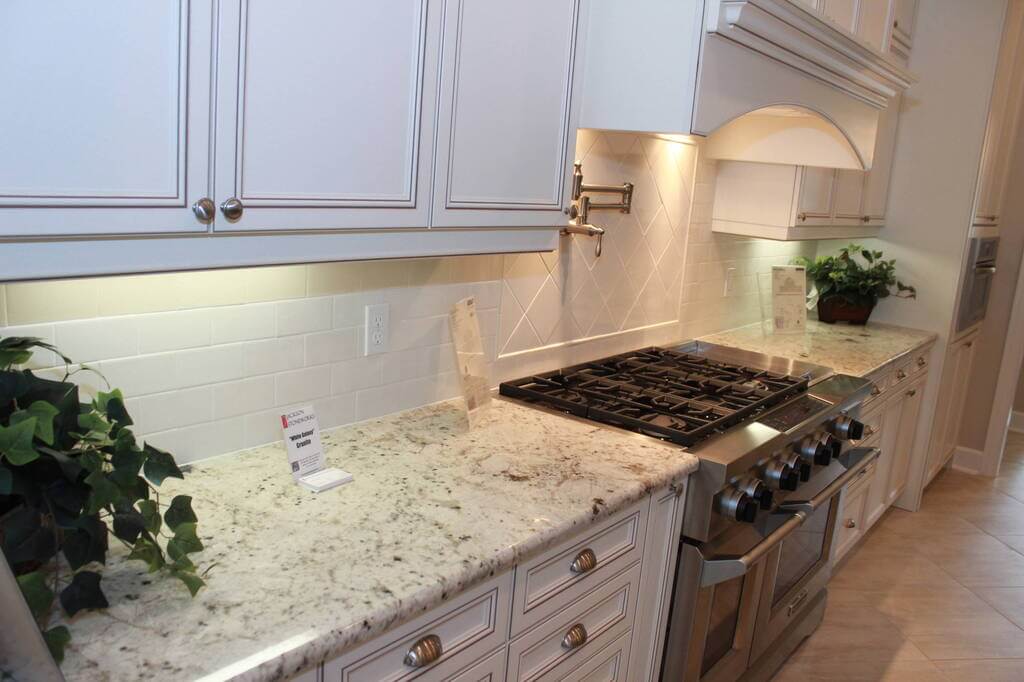 Source: hzcdn.com
For all the crystal and celestial element lovers, this is a suitable granite color option. This can be used to brighten dull interiors and can be paired perfectly with dark-colored cabinetry. Popular for its durability and low maintenance it can be used for multiple areas, including white granite kitchen countertops, bathroom vanities, backsplashes, etc. The veining is extremely subtle and delicate but mixed gives a bold webbing of colors.
Key Features: It has small to midsized crystals and some distinct pale red/brown games. Price range lands in between affordable to mid-ranged. 
12. Salinas White: Subtle Shimmer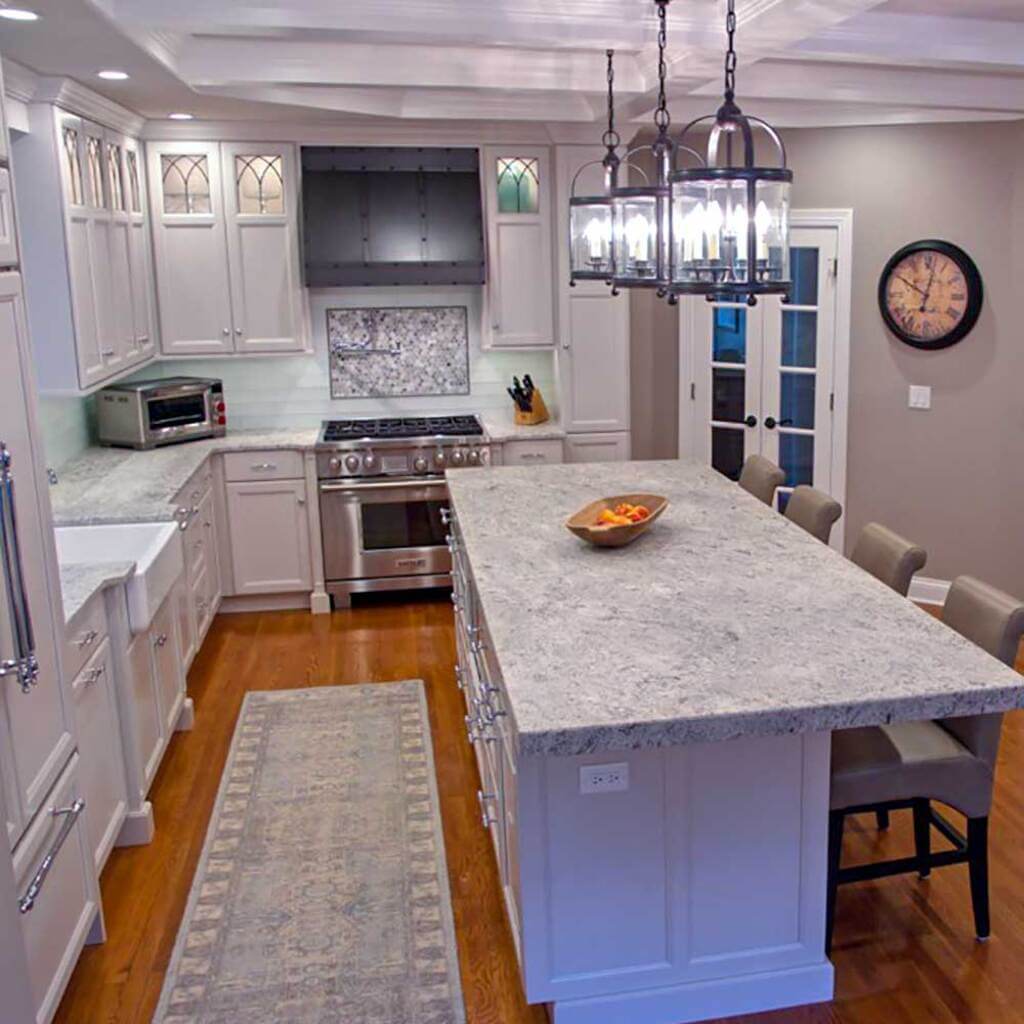 Source: cincinnatistoneworks.com
The subtle shimmer these granite countertop colors has adds a highlight to the space where it is used. It is ideal for both internal and external facades. The variations on it are rather consistent which makes it very versatile. It works well along with various interior styles and colors but looks best when paired with dark woodwork. 
Paired with darker accents will bring out the richness of the stone and paired lighter accents will still make this stone make a statement. 
Key Features: A creamy bone-white stone with dense clusters of onyx speckles and lower contrast accents of light pewter and smokey tan accents. Falls into the mid-price range. 
13. White Valley: Winsome White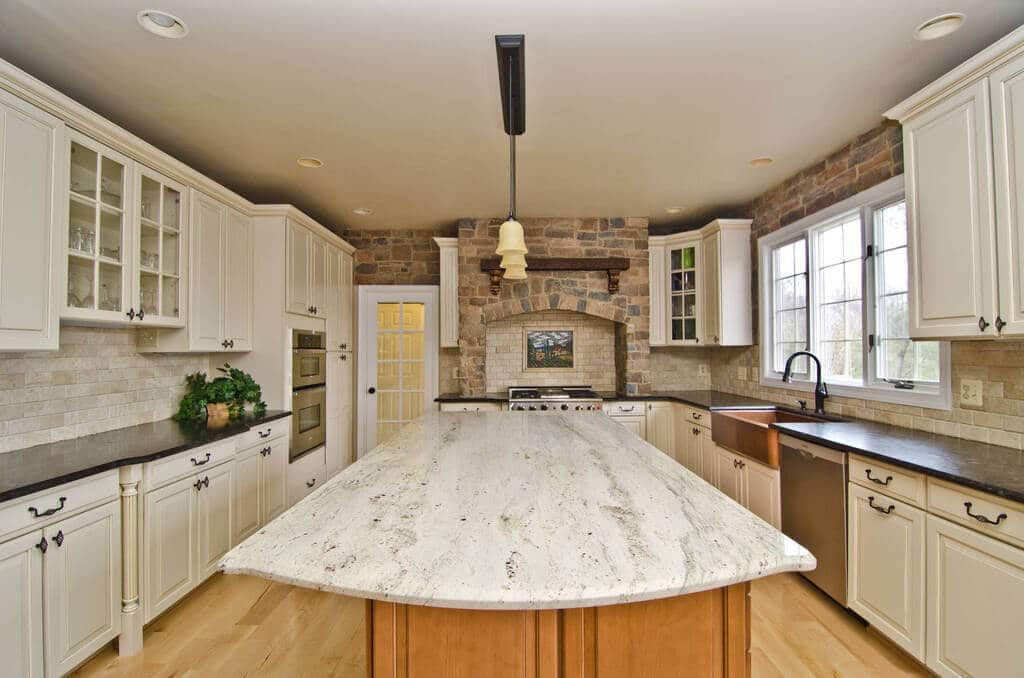 Source: hzcdn.com
This dramatic stone adds a welcoming effect to any space that it is used. It offers plenty of visual interest and depth because of the abundance of movement. To add an air of sophistication and elegance to your kitchen this is the perfect choice since it has an unprecedented versatility which makes it blend well with any design. It would contrast well with cabinetry colors like navy blue, wine red, or Burgandy and for an achromatic look, it would go with white and grey cabinetry.    
Key Features: Its white background is elevated by tonal shades of gray veining running throughout the slabs. It falls into the mid-price range. 
14. White Ornamental: Lovely and Timeless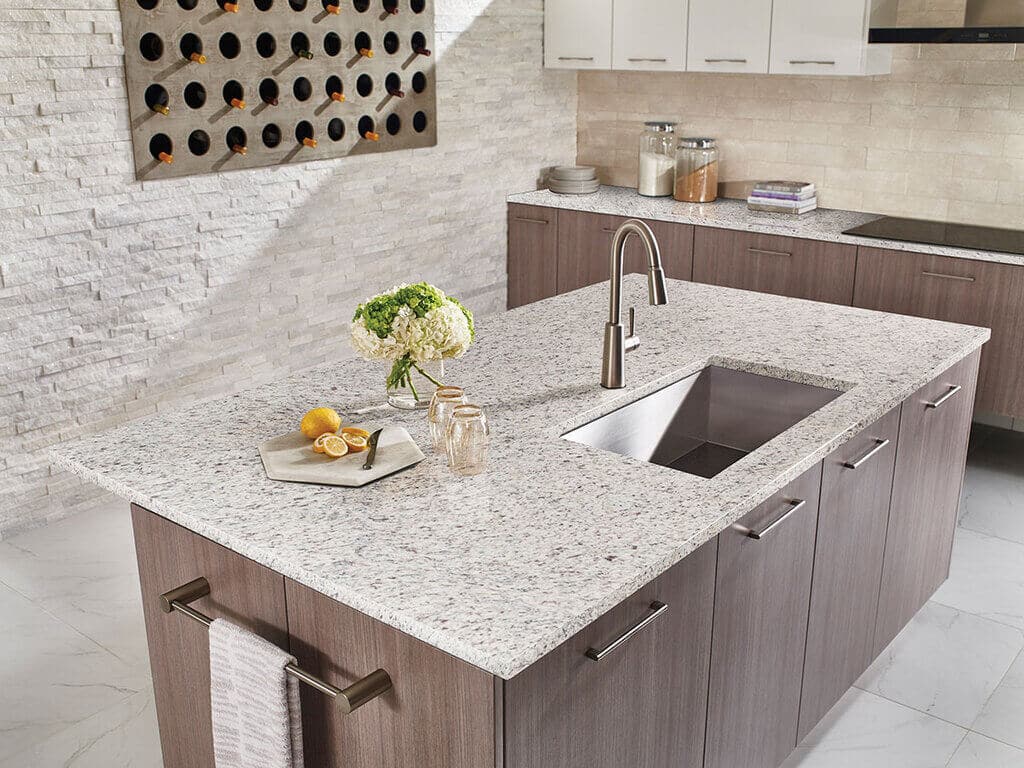 Source: msisurfaces.com
This is another granite countertop color imported from brazil.  It may be subtle in color but it makes a seriously sophisticated statement. It is perfectly suited for monochrome environments but can be contrasted with dark cabinetry too. Bright pops of color will stand out with this granite color since it is very subtle on its own. It is very easy to maintain and durable at the same time.       
Key Features: A combination of soft whites, creams, taupes, tans, and grays with minimal variations. It falls in a very affordable price range. 
15. White Spring: True Classic!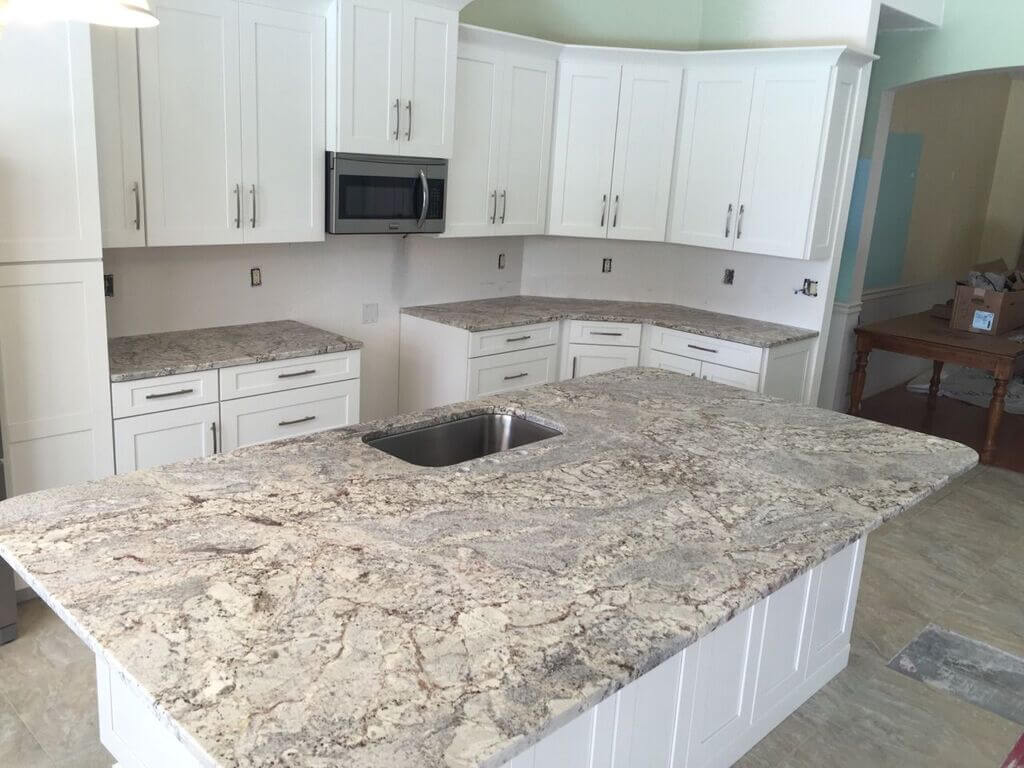 Source: pinimg.com
It is known for its alluringly rambling, high variation veining. Cherry and Mahogany wood cabinetry brings out the red accents of this granite color. To make this stone the main attraction of the space light-colored cabinetry and accents would be the best choice. It is a very versatile granite option since it works best indoors and outdoors for both residential and commercial projects.
Key Features: A backdrop of crystal white bedrock with pops of red, black, and gray. Due to its unique look, it falls in the higher price range. 
5 Pro Tips on Maintaining White Granite: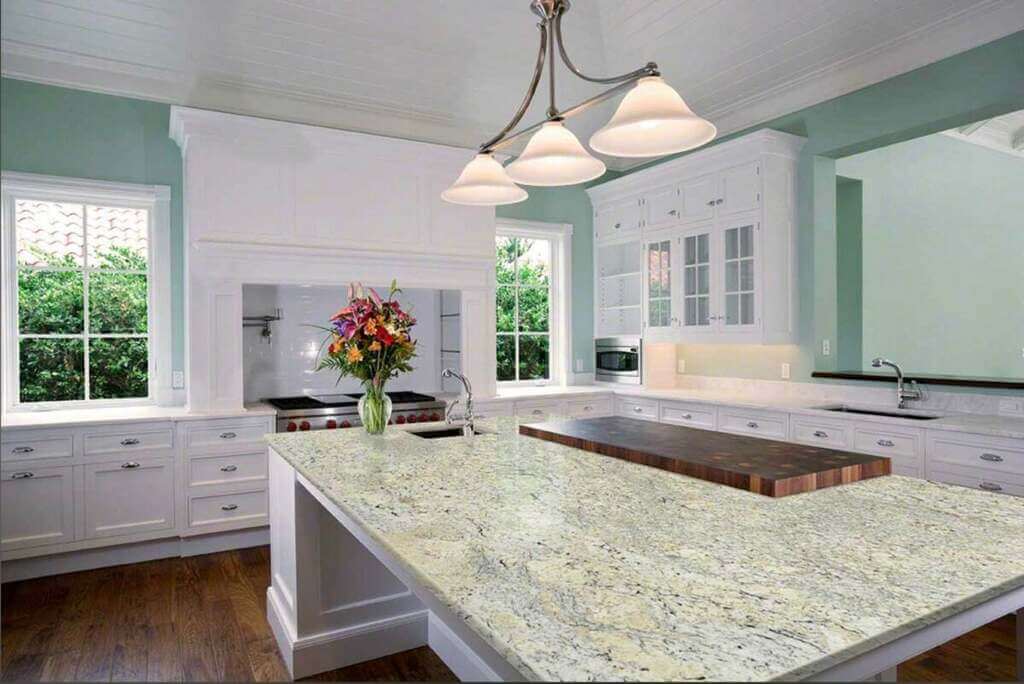 Source: bobvila.com
No leftovers!

– Clean the grime and crumbs from your white granite countertops regularly with hot water and a soft cloth. This should be done regularly to avoid debris buildup along. 

Deep Cleaning

– Move the small appliances and racks from the counter and clean every nook and corner of the countertop to get rid of hidden grime. A mild detergent and hot water can be used for this.

Polish and Shine

– Use a granite polisher to gently polish your countertops once a month in order to restore their shine and make them look as good as new. 

The sealing check

– Depending on the specifications of your granite, seal your granite countertops each year to improve their resistance to moisture, heat, and wear. 

The right cleaner

– Generic cleaners like bleach, glass cleaners, and other degreasers contain chemicals that degrade the granite's seal. 
Granite or Marble? Which One to Choose: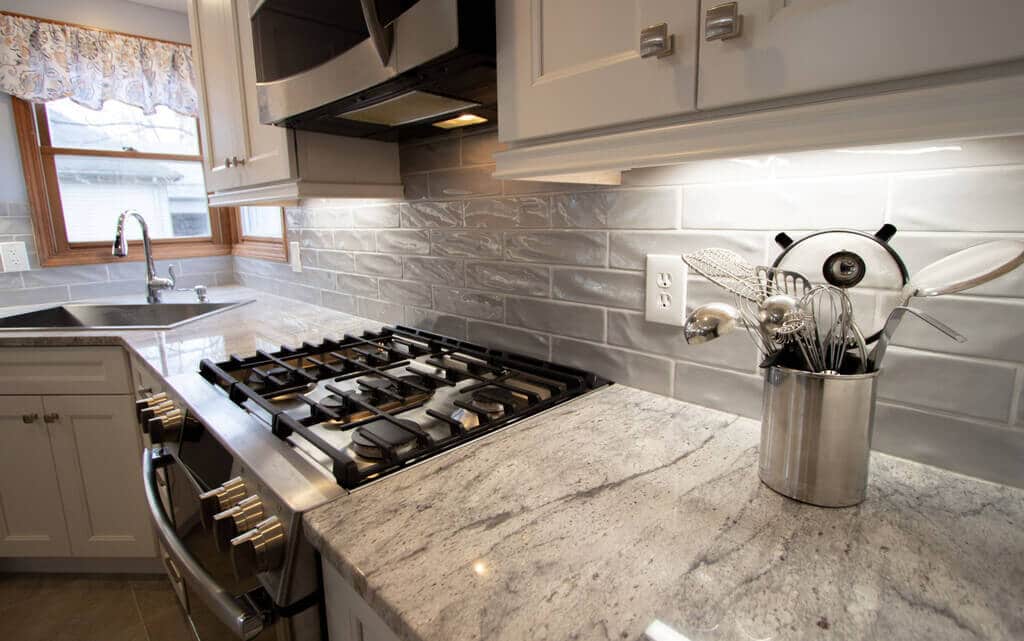 Source: hzcdn.com
Marble and Granite are both very similar countertop materials that add a unique value to your home. Marble surely is an attractive, luxurious option for your space but it isn't resistant to wear and tear as compared to white granite. Granite is stronger, and stone as compared to marble which lends it a shiny appearance as compared to marble's dull smoothness. 
Marble is more porous than granite hence making it easier to stain. Marble is also easily susceptible to heat and acids in a way that granite is not. All the points stated above prove that granite is a better option since it is comparatively easier to maintain, more durable than marble, and cost-effective. 
Also Read: Granite vs Marble Countertops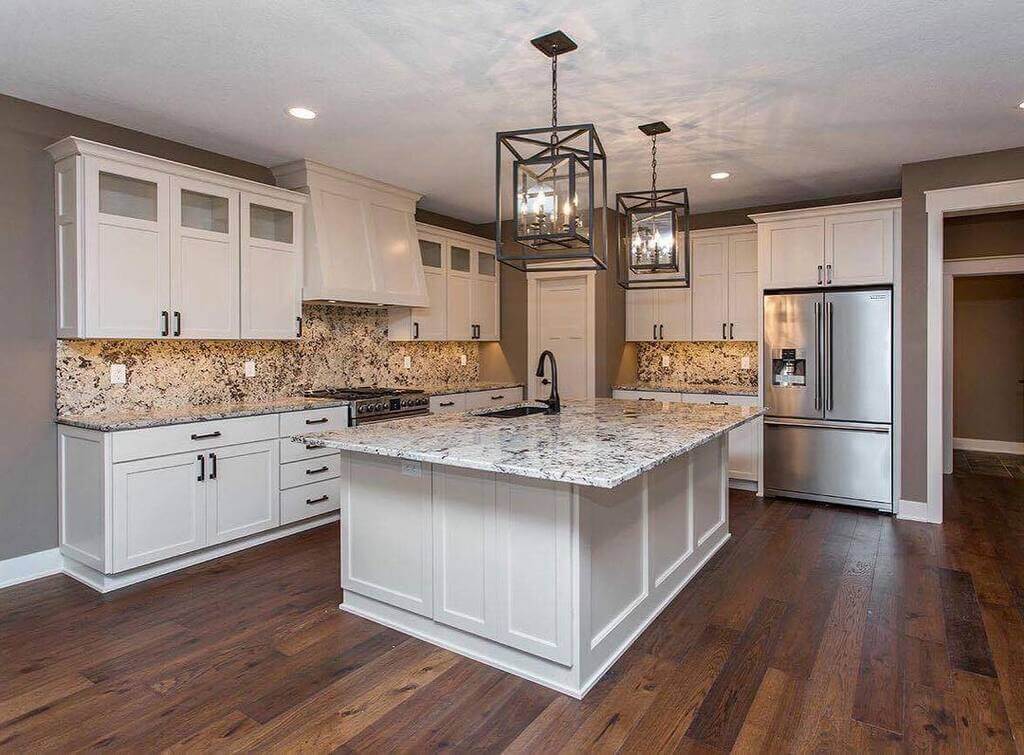 Source: iowaremodels.com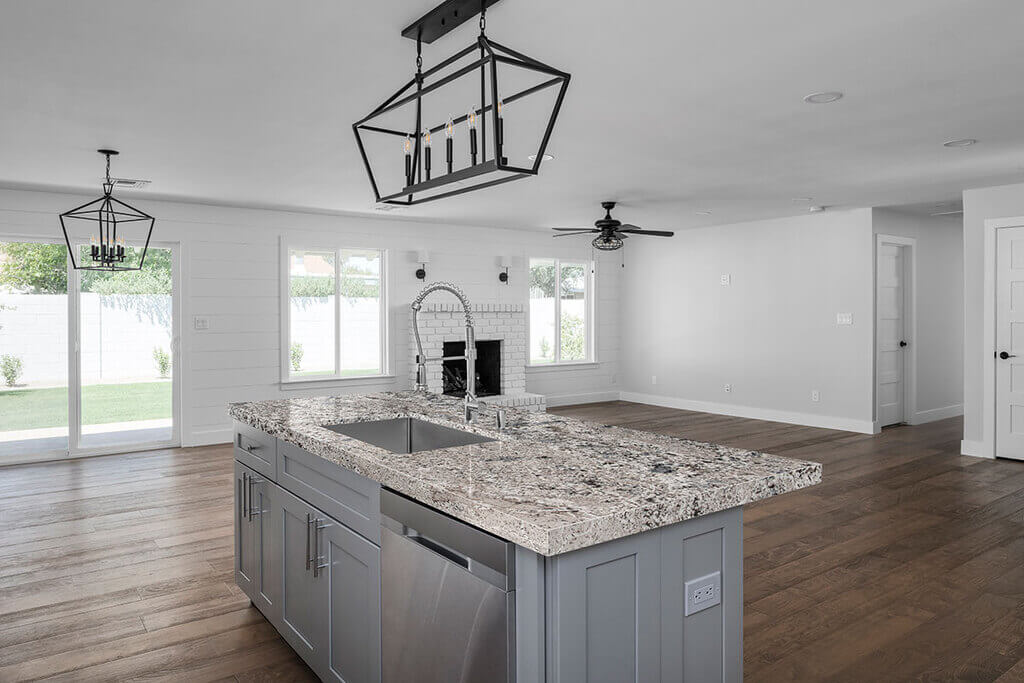 Source: msisurfaces.com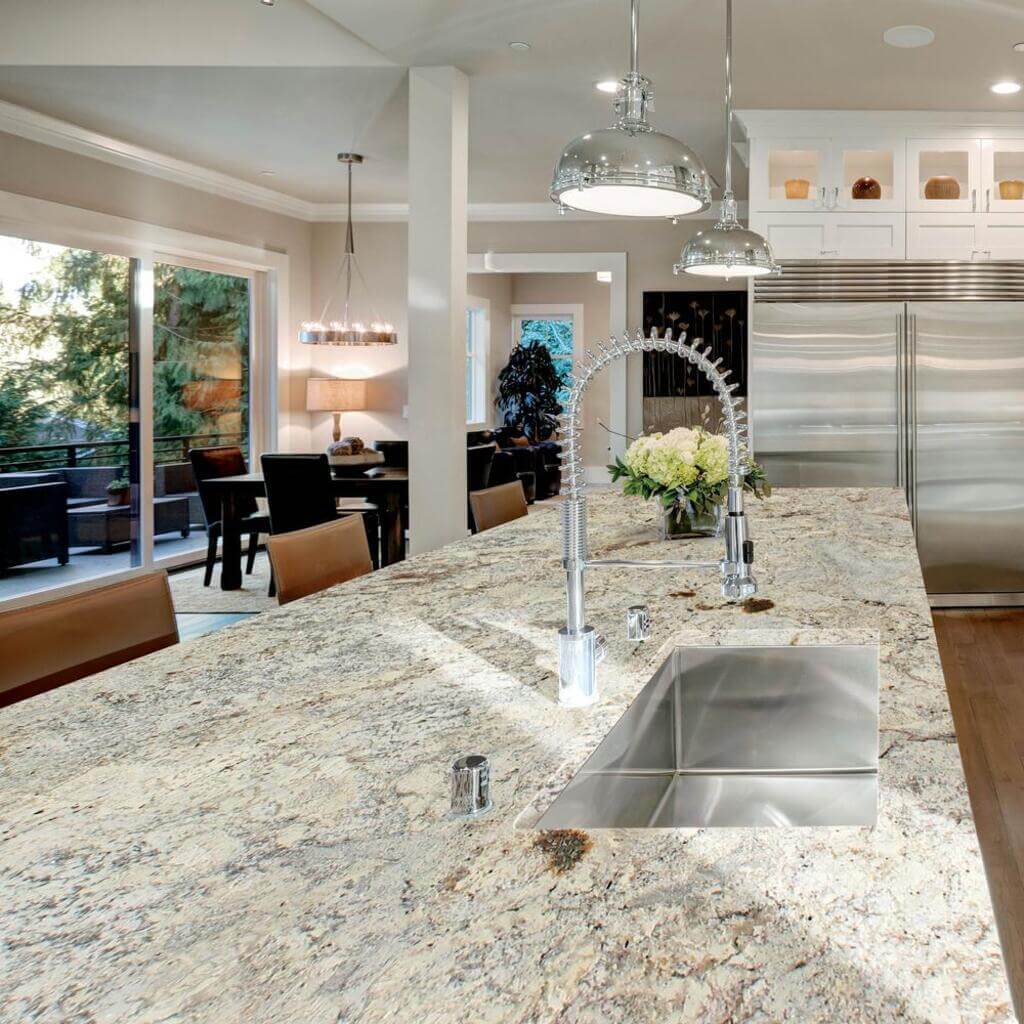 Source: homedepot-static.com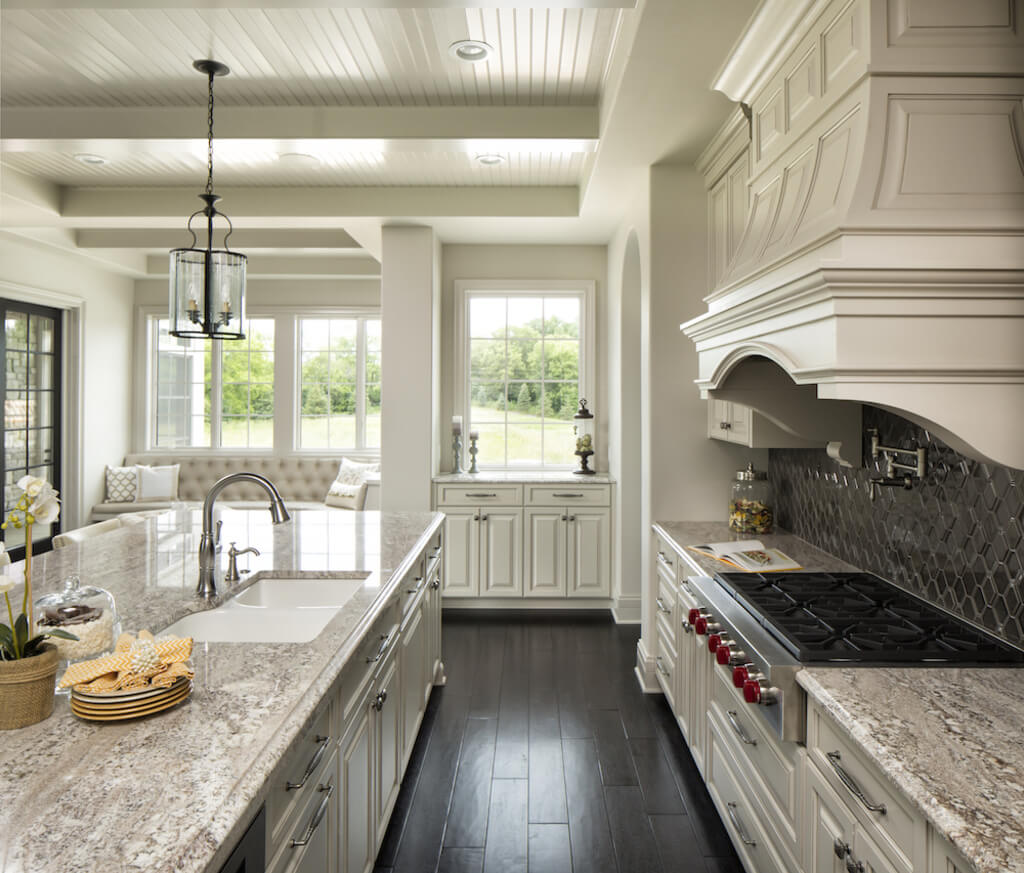 Source: cdgranite.com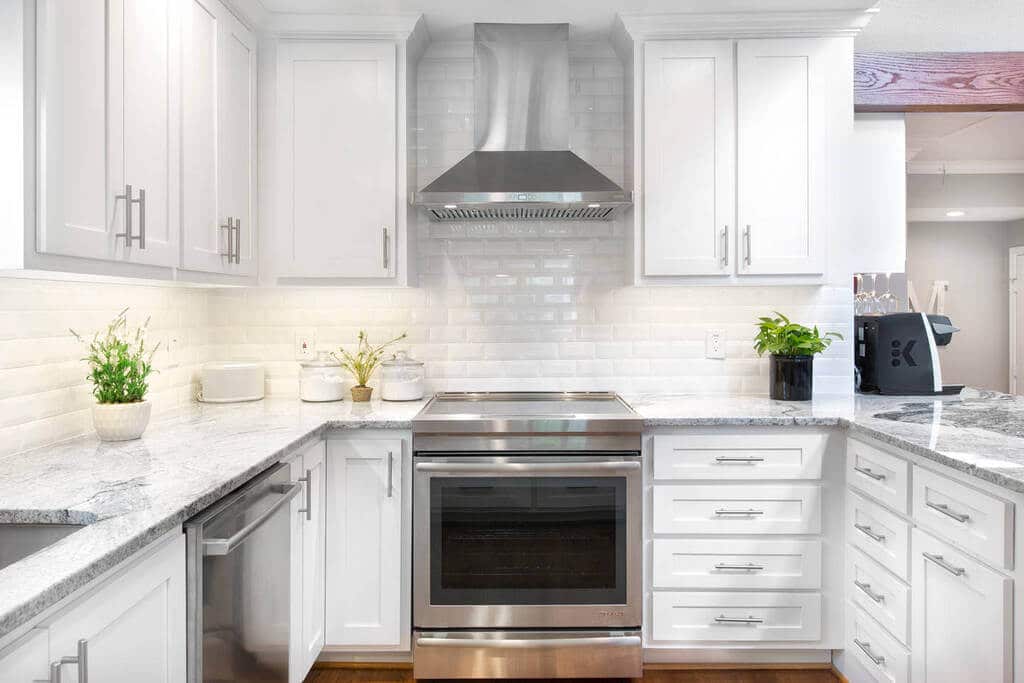 Source: msisurfaces.com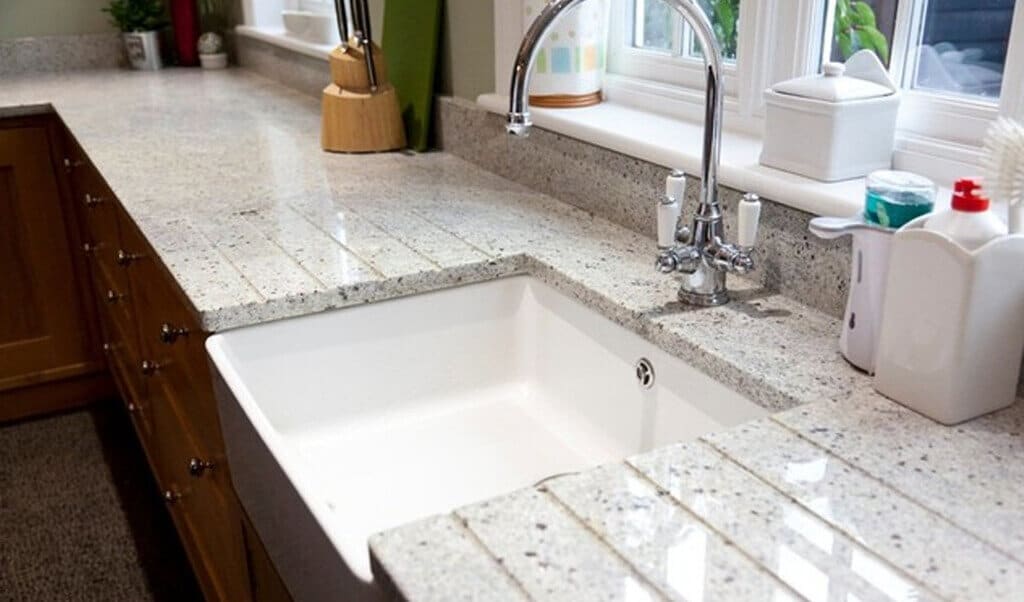 Source: earthstoneglobal.co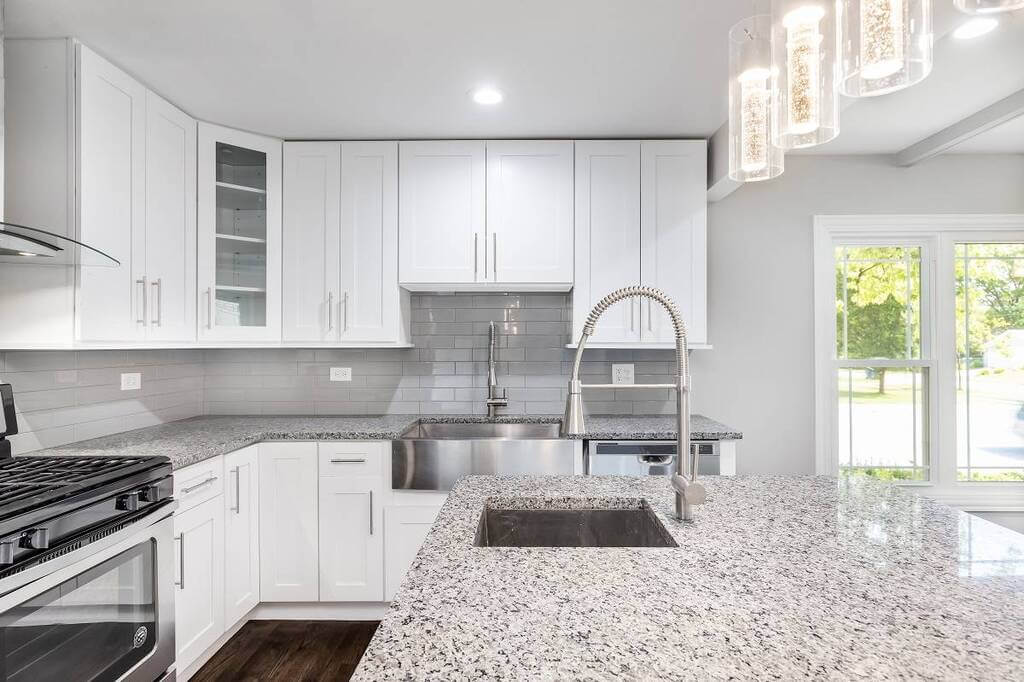 Source: prostonecountertops.com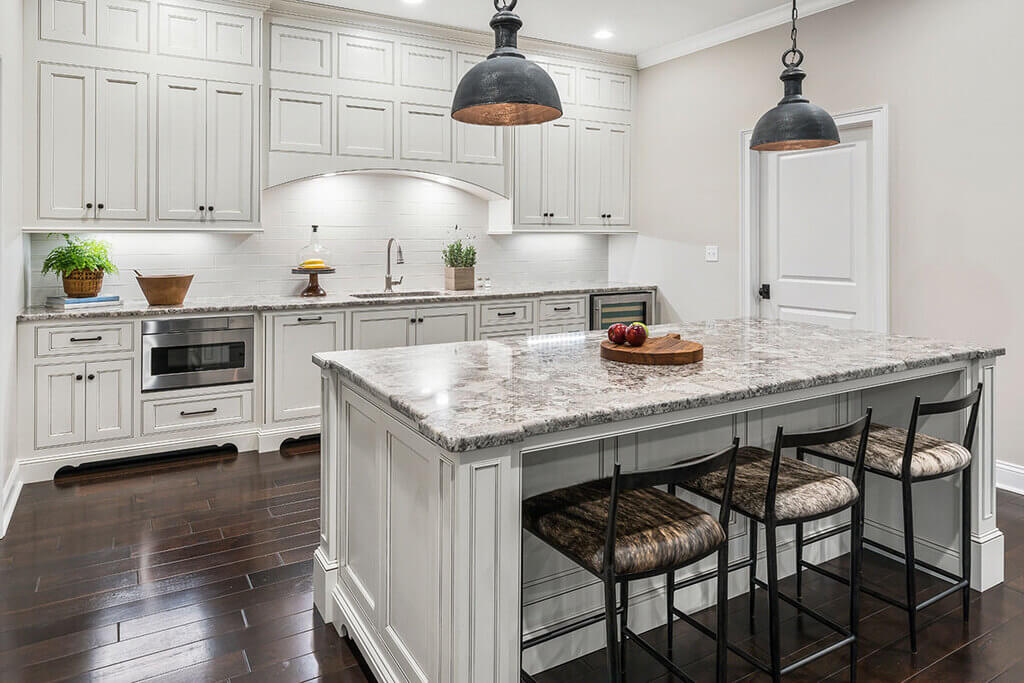 Source: msisurfaces.com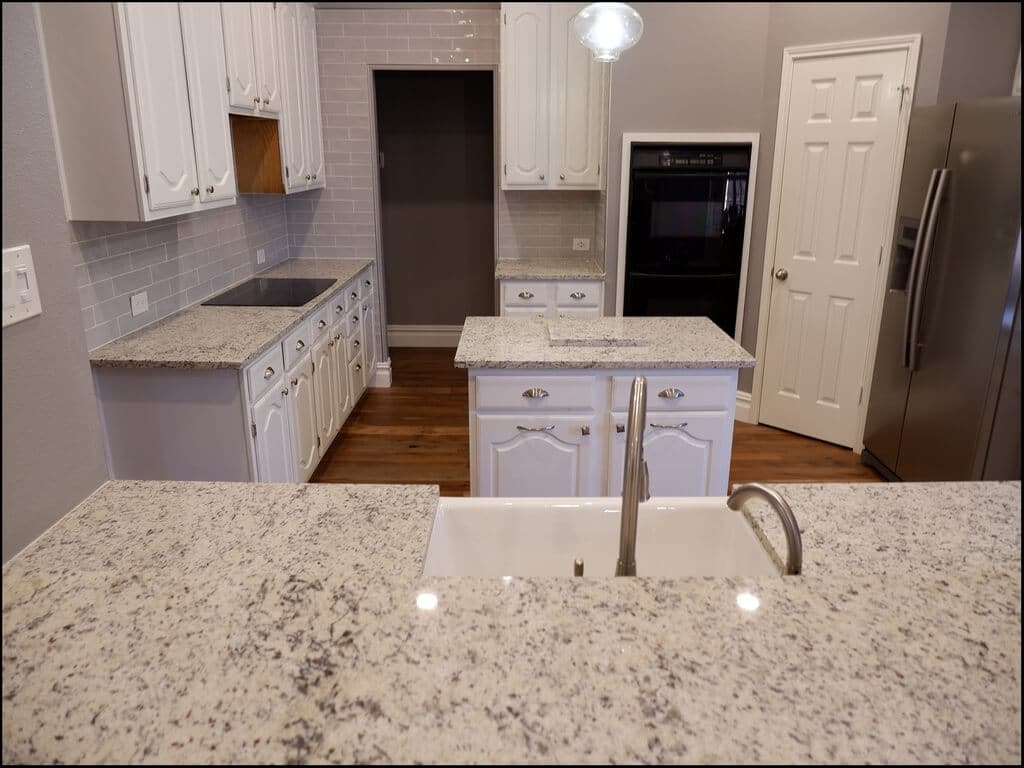 Source: countertopshq.com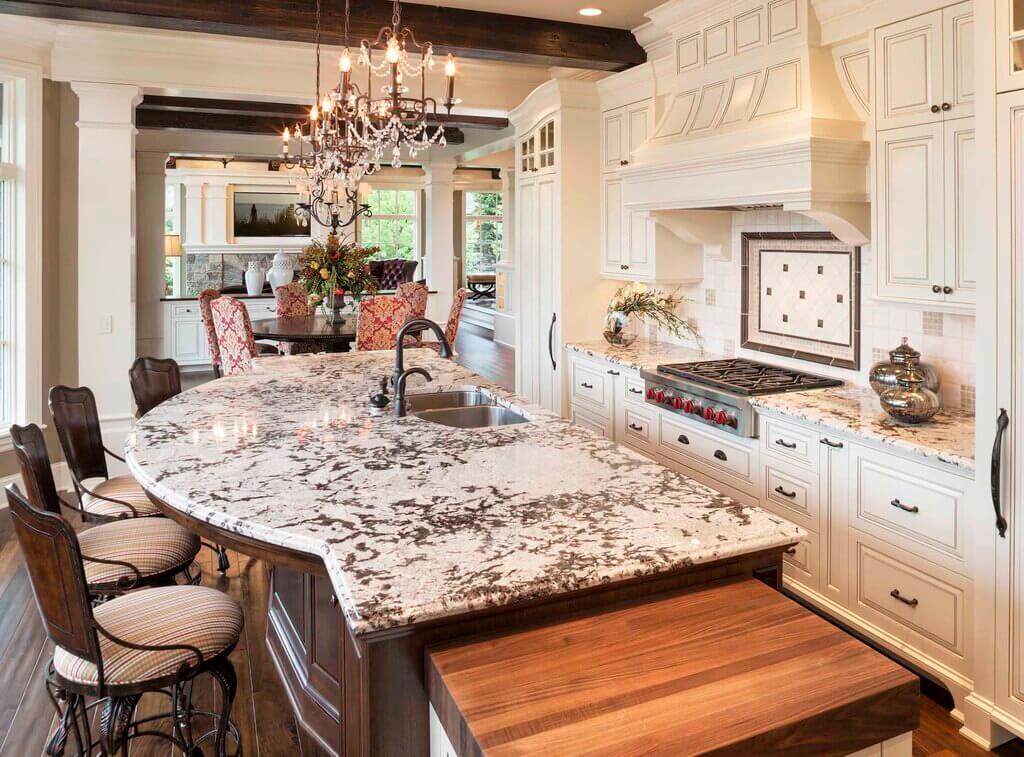 Source: amsumash.com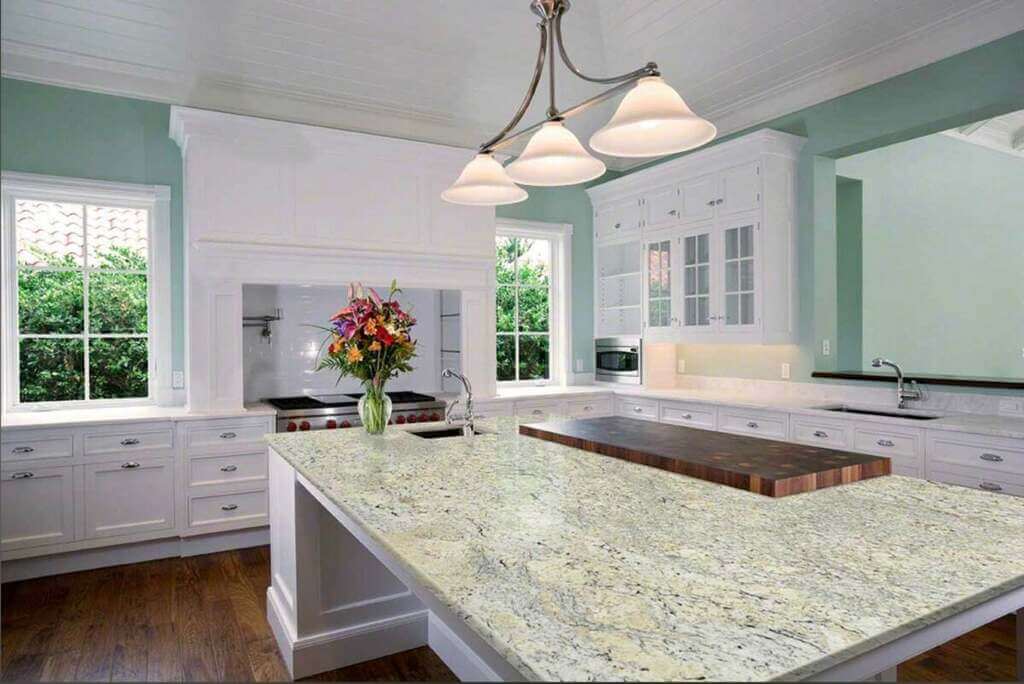 Source: bobvila.com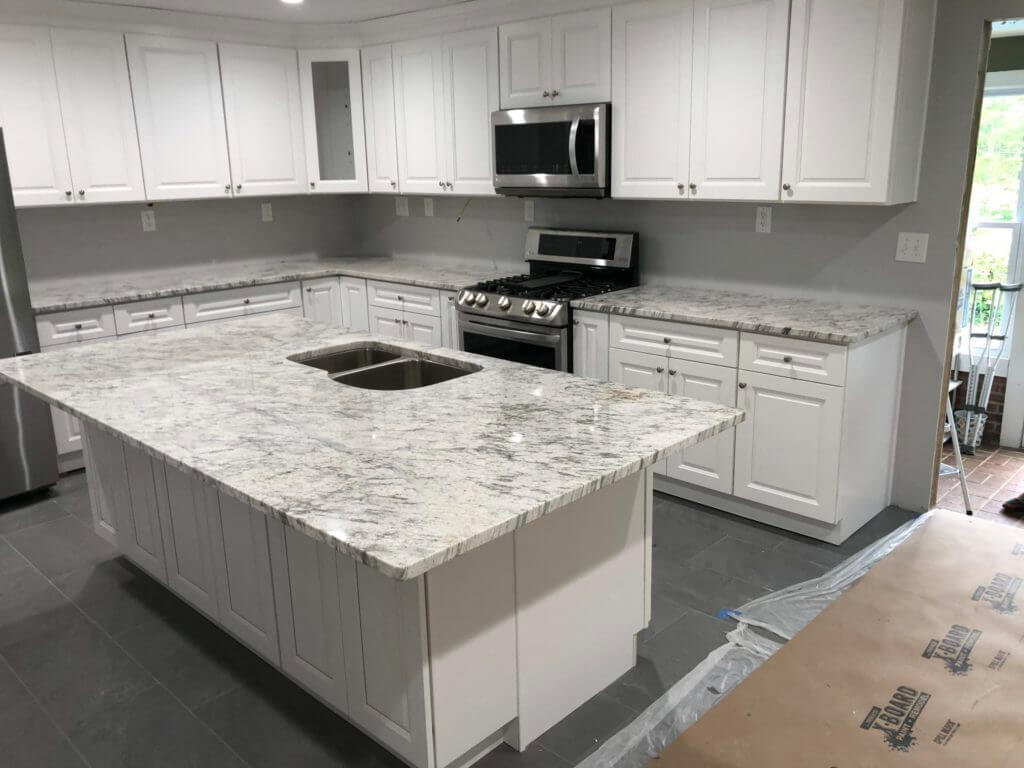 Source: scpremiergranite.com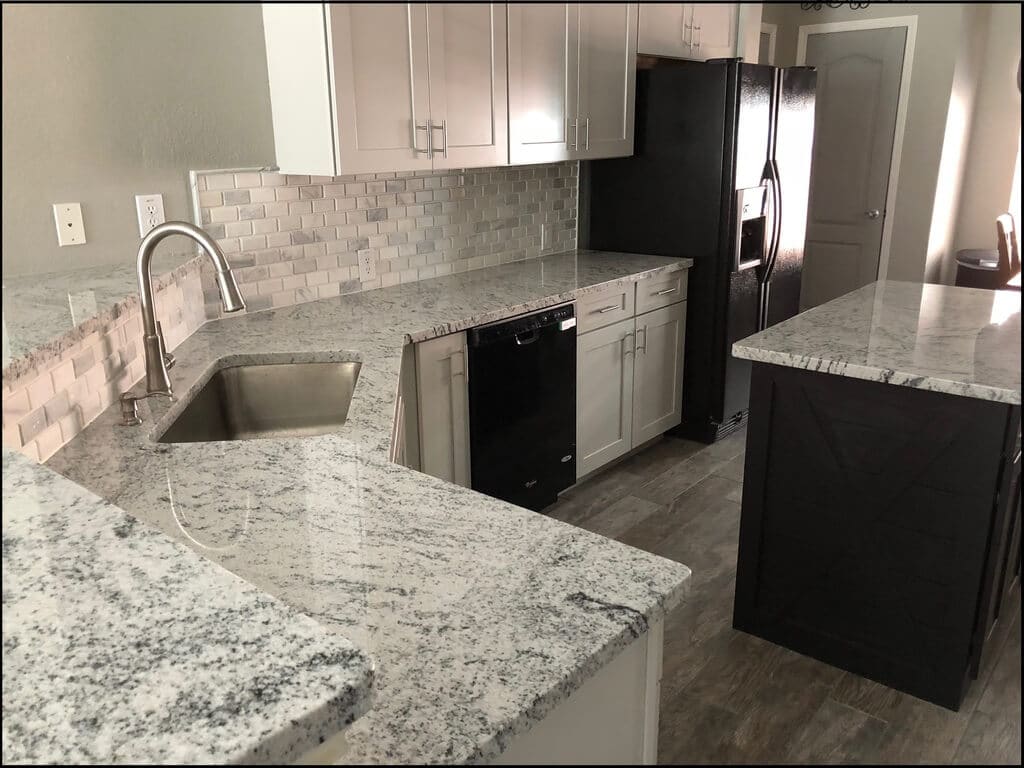 Source: dfwgranite.com
FAQ's 
1. What Are the Different Kinds of Granite Colors?
Granite comes in various color options, to name a few — White spring, Salinas white, Alps white, Moon White, Aspen white, etc. 
2. What Are the Most Affordable White Granite Colors? 
Granite in general is a comparatively affordable option but the most affordable ones are — White ornamental, White galaxy, Thunder white, and Adino white. 
3. How Is Granite a Better Option Than Marble?
Granite is a better option since it is comparatively more durable, and less porous hence making it less easy to stain, shinier and more polished appearance, and more affordable than marble. 
4. What Are the Best Ways to Maintain Granite?
Regular cleaning, deep cleaning once a month, covering it with a seal to avoid wear and tear, not using store-bought harsh cleaners, and regular polishing. 
5. Where Can White Granite Be Best Used?
It can be used for kitchen countertops, bathroom countertops, and backsplashes. Apart from this, it can also be used for dining table tops and other interior elements. 
To know more about Home improvement ideas, Cleaning and decoration tips visit ArchitecturesIdeas.
For daily updates, follow us on our Instagram page @architectures_idea.